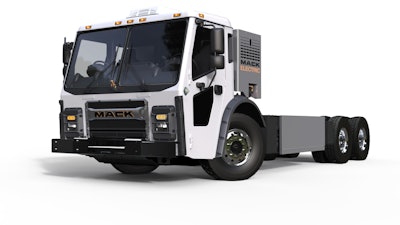 Mack Trucks and Mack Financial Services (MFS) have launched an all-inclusive Vehicle-as-a-Service (VaaS) program to help simplify the purchase process and help customers better manage expenses associated with acquiring the Mack LR Electric battery electric vehicle (BEV).
Mack says the new VaaS program includes the vehicle chassis, the refuse body, applicable taxes and a comprehensive vehicle protection plan - the Mack Ultra Service Agreement for the Mack LR Electric refuse model. Additionally, Mack says qualified customers now have the option to bundle a charger and associated installation costs into a single invoice, an all-inclusive offer unique in the industry.
VaaS is offered as a five-year lease with single monthly payments and the option to renew, the company says.
"The Mack Vehicle-as-a-Service program is designed to address any customer hesitations in adopting electromobility by offering zero upfront costs," says George Fotopoulos, Mack vice president of the e-mobility business unit. "Mack took this approach because we believe in BEV technology, we stand behind our electric products, and we want to accelerate industry adoption of this technology."
The recently introduced Mack Ultra Service Agreement includes all preventive and corrective maintenance, excluding accidental repairs, Mack GuardDog Connect uptime services, roadside assistance, battery monitoring and an industry-leading battery performance guarantee.
[RELATED: New study shows more than 140K electric trucks on order in U.S.]
Mack Financial Services also offers a new integrated insurance service on a digital platform providing an easier, more competitive and quicker insurance experience for Mack customers. Mack says the new service enables enhanced capabilities, allowing customers to access different coverages, make claims and handle their other insurance-related needs online.
The OEM adds the LR Electric model may be fitted with equipment bodies from a number of manufacturers, allowing the truck to be tailored to each customer's unique needs. Customers can choose from the same driver/passenger side driving configurations, seating choices and door options as those offered on the diesel-powered LR model, Mack says.