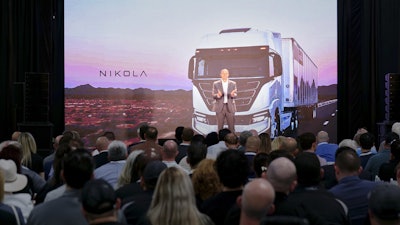 Nikola Corporation marked the beginning of its commercial serial truck production of the Nikola Tre BEV (battery-electric vehicle), with a special ceremony in Coolidge, Ariz.
"We began production of the Tre BEV on March 21 here in Coolidge and today we're celebrating this milestone and the initial shipments of trucks to our customers," says Nikola CEO Mark Russell. "In 2022, we're moving forward with every aspect of our business. Next year, fuel-cell electric vehicles (FCEV) are planned to be added to the manufacturing mix. We are focused on delivering vehicles and generating revenue."
"Nikola has become a driving force in Arizona's rapidly expanding electric vehicle industry," says Arizona Governor Doug Ducey. "Watching this innovative company grow and put down roots in Arizona has been truly incredible, and I know it's only getting started. With the beginning of production at this manufacturing facility, Nikola is clearly in the driver's seat of the future of transportation and commerce. Thank you to the entire Nikola team, Sandra Watson and the Arizona Commerce Authority, our partners at the legislature and local leaders for supporting this phenomenal project."
Phase 1 of the Coolidge, Arizona manufacturing facility provides Nikola with a production capacity of 2,500 trucks. Construction of the Phase 2 assembly expansion area has begun and is expected to be completed in 2023 with a production capacity of up to 20,000-trucks per year on two shifts, the company says.
"With our world class universities and community colleges, Arizona has some of the best engineering and manufacturing talent in the country," says Sandra Watson, president and CEO, Arizona Commerce Authority. "Nikola not only is a top employer in the region, they are attracting top tier suppliers to further grow Arizona's robust electric vehicle supply chain. We are incredibly grateful to the entire Nikola team for choosing Arizona to help meet their vision and we are excited for the company's bright future."