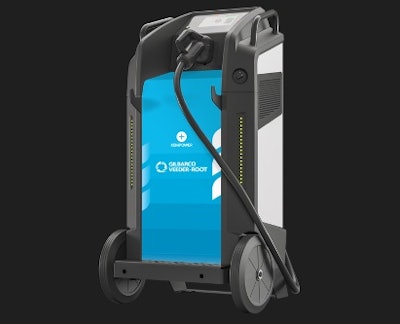 Volvo Trucks North America has added an additional vendor, Gilbarco Veeder-Root, to its Vendor Direct Shipping program, further enabling customers to procure mobile and fixed electric vehicle (EV) charging hardware solutions directly from Volvo Trucks dealers when they purchase Volvo VNR Electric trucks.
The program was initially launched in September 2022 with Heliox as its first vendor.
"Volvo Trucks continues to expand our network of technology partners and service providers to provide comprehensive electromobility solutions that enable our fleet customers to streamline the deployment of Volvo VNR Electric trucks," says Peter Voorhoeve, president, Volvo Trucks North America. "The Volvo Trucks' Vendor Direct Shipping Program provides our customers expediated access to charging hardware that has already successfully completed interoperability testing with the Volvo VNR Electric model, so that they can reliably charge their trucks once their EV charging infrastructure is energized."
The Vendor Direct Shipping program now includes five models of EV chargers with more options and partners being added as demand grows:
Gilbarco Veeder-Root
Heliox
50kW Mobile DC Fast Charger (Single Port CCS-1)
180kW Flex DC Fast Charger (Up to 3 Dispensers with CCS-1)
Volvo says customers also can work with Volvo Trucks' Vendor Direct Shipping partners to develop tailored and scalable infrastructure to ensure the battery-electric trucks are being charged up efficiently while making the best use of available power. Newly added vendor partner, Gilbarco Veeder-Root, offers end-to-end fleet charging solutions including EV charging infrastructure, an EV charger management portal, a fleet EV driver app, and an EV readiness tool, the company adds.
"We recognize the vital role that fleet operators play in building out the nation's electric vehicle infrastructure as they expand their battery-electric fleets and believe this program will provide an easy and reliable solution to fleets," says Deepesh Nayanar, head of e-mobility, North America at Gilbarco Veeder-Root. "Volvo Trucks is a trusted brand in the truck space, and we are a trusted brand in fueling and as fleets move forward in their electromobility journey, it is important that they have the confidence that they are able to reliably charge and utilize their critical assets."