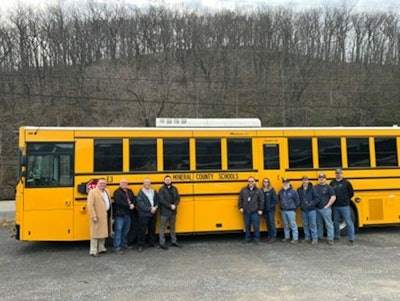 GreenPower will launch round four of a pilot project to demonstrate electric school buses.
Mineral, Lewis, Harrison and Upshur counties will all get GreenPower buses. This round of the project will evaluate the performance of buses on rural roads, in mountainous conditions and in cooler temperatures, GreenPower says.
[RELATED: GreenPower unveils BEAST zero-emission electric school bus]
"We're committed to continue bringing healthier transportation alternatives to the children and communities of West Virginia to help reshape how students travel to and from school," GreenPower CEO and Chairman Fraser Atkinson says.
The third round featured Boone, McDowell, Raleigh and Wyoming counties.
"Harrison County Schools recognizes that electric school buses are the future of school transportation and will shape the way students ride to school," says James Lopez, assistant superintendent of Harrison County Schools. "We are excited to be a part of this program with GreenPower and have the ability to make riding an electric school bus a safe, clean experience that's part of our students' daily lives."