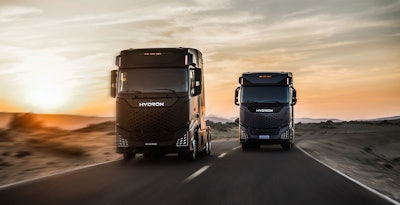 Hydron
A new Class 8 fuel cell truck manufacturer has joined the growing ranks of hydrogen players to not only cut emissions but also to help market autonomous driving systems at a time when fleets and OEMs alike continue to face challenges when dealing with overseas suppliers.
Supply chain concerns helped motivate Mo Chen, co-founder of Class 8 autonomous frontrunner TuSimple, to kick off his latest company, Hydron, which is gearing up to produce autonomous fuel cell trucks in North America in roughly two years.
"The path to commercializing autonomous vehicles requires the complex integration of both hardware and software," said Mo Chen, CEO of Hydron. "The biggest challenge in bringing autonomous driving to the market at scale is not software development, but access to reliable mass production hardware, and now with Hydron, we will be able to provide automotive-grade hardware specifically for autonomous networks."
[Related: Hyzon fuel cell truck impresses with power and zero emissions]
Hydron is also pursuing partnerships to help launch hydrogen networks.
"By deploying hydrogen fueling stations in high volume freight routes we will be able to focus on the locations needed the most and then scale from there based on demand," Chen, a Canadian entrepreneur, told CCJ. "For example the Texas triangle connecting Dallas, Houston and San Antonio is a good example of geographies that would benefit from hydrogen refueling infrastructure."
[Related: Fleets share impressions of zero emission trucks and vans]
While gaseous hydrogen is currently the dominant player at the 50 or so dispensers currently available in the U.S. (the vast majority of which are located in California), Chen is keeping a close eye on liquid hydrogen given its greater energy density. Hexagon Purus, a manufacturer of liquid hydrogen tanks for Class 8 trucks, provided data to CCJ that shows liquified hydrogen having 40% more range versus compressed hydrogen.
"We're excited about the potential to implement liquid hydrogen due to the energy density and faster refueling times which will provide even great benefits to our customers," Chen said. "We are looking at liquid hydrogen very closely and will have more to say on that topic in the future."
While Chen would not provide additional details on Hydron's first truck, he did say that Hydron "has been working with Cummins on the powertrain supplier side."
[Related: Cummins hydrogen engine offers more capability, lower cost over all-electric]
Chen left little doubt as to why Hydron will be manufacturing fuel cell trucks instead of all-electric.
"Details on the range of Hydron's first generation truck have not yet been shared publicly, however we expect our vehicle range to significantly surpass the range of any battery electric class 8 truck, therefore making them a superior option for clean long-haul freight transportation," Chen said. "More information on vehicle performance will be made available as we get closer to production, but our vision is to develop a portfolio of hydrogen powered autonomous ready trucks."
Hydron may or may not lean on TuSimple's L4 autonomous tech which paved the way for a historic moment in trucking this past December when TuSimple became the first company to successfully operate long-haul heavy-duty trucks autonomously on open public roads without a human in the vehicle and without remote intervention.
"Hydron's hydrogen powered autonomous trucks are designed to be software agnostic and can operate on a variety of SAE Level 4 autonomous driving software platforms," said Chen when asked if TuSimply would be supplying autonomous tech to Hydron.
The first generation of Hydron trucks is expected to enter mass production mid- to late-2024.