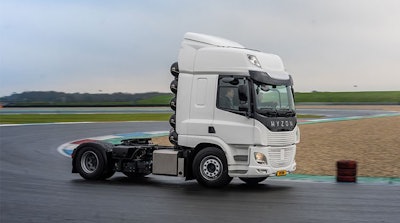 Hyzon Motors Inc. was granted a stay of delisting from NASDAQ.
The company will now appear before the hearings panel March 16 to present a plan to regain compliance with listing rule 5250(c)(1), pertaining to the filing of periodic financial reports.
NASDAQ had informed Hyzon earlier this month that it would delist the company's Class A common stock and warrants on Feb. 14 and that it would remove the company's securities from listing and registration.
[RELATED: Hyzon Motors plans to accelerate decarbonization]
Hyzon is a global supplier of zero-emission heavy-duty fuel cell electric vehicles. It's U.S. offices are in Rochester, Chicago and Detroit, and it also has facilities in the Netherlands, China, Australia and Germany. It uses hydrogen fuel cell technology for its trucks and buses to mitigate emissions from diesel transportation.