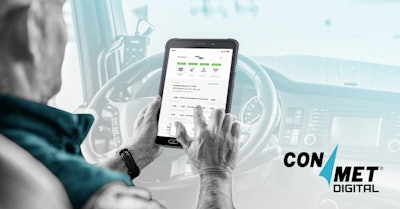 ConMet Digital's suite of telematics products is coming to the Platform Science catalog.
"The addition of ConMet Digital's Intelligent Telematics Solutions to Platform Science's catalog enables powerful real-time and actionable tools for fleet operators," says Platform Science Vice President of Business Development Joe Jumayao. "These tools provide critical visibility and notifications into the maintenance status and health of their commercial assets before any unplanned downtime or damage has occurred. Fleets that utilize Platform Science's unified, user-friendly platform will have the flexibility to deploy ConMet's solutions while giving fleets choice and meeting their specific operational needs."
Platform Science will add these ConMet Digital solutions:
The ConMet Digital Driver app, which gives transportation fleet drivers real-time visibility to critical information about the assets they operate, maintain and manage.
The PreSet Plus SmartHub telematics solution that gives fleets visibility into the condition of the wheel end ecosystem, including hubs, tires and brakes.
The SmartAir TPMS, which sends alerts when tire pressure falls outside of a predetermined pressure range, helping fleets make more informed tire maintenance decisions to extend tire life, improve fuel efficiency and increase safety.
The SmartTrack asset manager for accurate GPS locations to maximize productivity and monitor driver behavior.
The SmartAir line pressure monitoring solution to provide visibility into emergency brake air pressure status.
The SmartAir axle load solution for real-time air suspension-based axle monitoring.
"We're eager to collaborate with Platform Science and offer their customers the insights necessary to improve the safety and productivity of their commercial vehicle operations," says ConMet Digital Vice President and General Manager Paul Washicko. "This partnership helps us reach our goal to assist fleets in making better, data-driven decisions by incorporating our unique data insights into the Platform Science catalog."