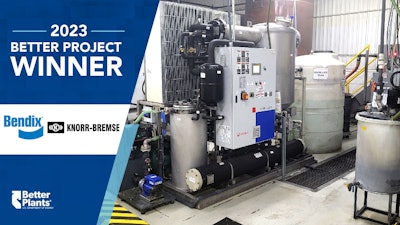 Bendix Commercial Vehicle Systems' facility in Huntington, Indiana, earned a 2023 Better Project Award from the U.S. Department of Energy.
[RELATED: Bendix's Mexico manufacturing campus hitting sustainability goals]
The Huntington plant's efforts in reducing the environmental impact of its engine vibration damper production was honored by the Better Plants program for its innovative, industry-leading work in energy efficiency, water efficiency, emissions reduction and waste reduction.
"Bendix faced a complicated challenge when we expanded our Huntington operations in the summer of 2020 to include our vibration damper production," says Maria Gutierrez, Bendix's senior director of enviornmental, social and governance. "First, we wanted to implement a water-based solution in our raw materials cleaning process to reduce the impact of chemicals on the environment. And second, we wanted to address the amount of water used in that process. As a result, Huntington reused 500,000 gallons of water in 2022 and cut carbon emissions associated with the old processes -- and we're proud and excited that our progress continues to earn recognition from the Department of Energy."
Bendix Huntington also earned a Better Project Award in 2022 for its solar installation and in 2021 for a zero waste to landfill self-certification process.
The engine vibration dampers are used to reduce torsional vibration on engine crankshafts to prevent shaft failure and reduce noise, giving them a role in safe vehicle operation and improved fuel economy. The cleanliness of the raw materials and parts used in the dampers is a main factor in their quality and performance. Bendix switched from chemical cleaners to a more sustainable water-based solution, but found itself using much more water to meet cleanliness standards.
Bendix's solution was to use a high-vacuum evaporator to boil the wastewater from the cleaning process at a lower temperature, then clean and condense the steam to create a high-quality distillate that can be reused in the washing system. This allows for the recovery of 90% of the water that comes into the evaporator. The remaining 10% is a nonhazardous concentrate liquid waste.
"We've also reduced our carbon footprint, since the system now uses less energy to heat the water, relies on electricity as opposed to burning natural gas, and generates fewer greenhouse gas emissions from vehicles needed to transport waste," Gutierrez says. "And the successes we've seen have led Bendix to place orders for an additional evaporator in another one of our Huntington plants, as well as one for our Bowling Green, Kentucky, operation."