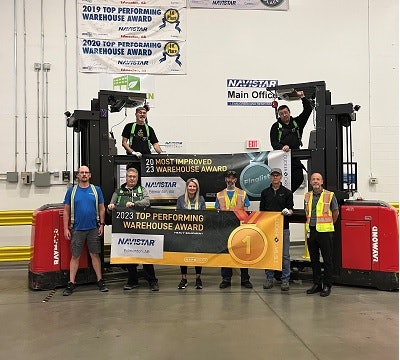 Navistar's parts distribution center network was named the top heavy equipment supply chain by industry solutions advisor Ducker Carlisle during the Carlisle North American Parts Benchmark Conference recently.
This is Navistar's first time atop the list.
"Our recognition as top heavy equipment supply chain is a major milestone for our evolving business," says Joseph Lopez, Navistar's director of North American distribution.
Navistar's Edmonton, Alberta, PDC in Canada was also named the top performing warehouse in the truck and heavy equipment category. The Edmonton PDC in Acheson, Alberta, and Navistar's Eastern Canada PDC in Hamilton, Ontario, were finalists for most improved warehouse.
Carlisle's metrics-driven top performing warehouse awards recognize warehouses that perform at the top of their class for service, quality, safety and cost management in quickly providing high quality parts for their customers.
"Winning the top supply chain OEM for heavy equipment is a huge achievement," says Charles Lester, vice president, logistics and supply chain. "That award, paired with the other accolades speaks to the continuing excellence we strive to attain. These recognitions prove that our efforts to consistently reevaluate our customers' needs surrounding uptime to ensure we can meet their goals by delivering parts that keep their businesses running is paying off."