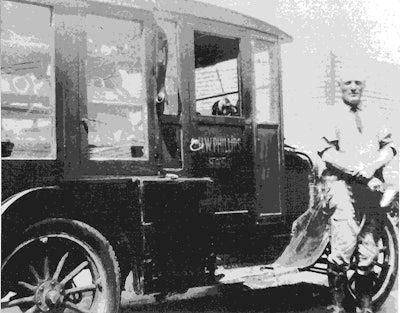 Phillips Industries formally embarked on its 90th-anniversary celebration during a press conference Monday at Heavy Duty Aftermarket Week (HDAW) 2018 in Las Vegas.
"Throughout our history, Phillips Industries has focused on listening – to our customers as well as to our employees because both are critical to our success," says President and COO Rob Phillips. "We're a fourth-generation family business that strives for quality in absolutely everything we do – it's the only way we've gotten to where we are today."
During Monday's presentation, Phillips walked through the fascinating history of his family's company. Since H.W. Phillips invented the trucking industry's first signal arm in 1928, Rob says the Phillips company has grown by never taking its attention away from the needs of its customers.
The business now manufactures and distributes more than 8,000 products in 40 companies, has more than 1,000 employees and locations in the United States, Mexico, Canada, China, Sweden and Belgium. Phillips products are standard on 100 percent of new tractors and 55 percent of trailers in the North American market, and, thanks to a new partnership with Mercedes Benz, will soon have 24 percent marketshare on new trucks in Europe. Additionally, the largest trailer manufacturer in China uses Phillips harnesses as their standard, the company says.
"While we're exceedingly proud of our history, we're even more excited about our future" says Phillips. "We are not going to concede our position simply because the commercial vehicle industry is changing. We've identified, through listening to our fleet contacts as well as other component suppliers, what the future needs are for communicating and analyzing the data generated through the increasing number of sensors in a user-friendly way. PCT is working today with fleets to fully develop and launch this new capability. Stay tuned."
As part of the 90th year celebration, Phillips is rolling out a number of videos with Bob Phillips talking about the history of the company. Some key milestones in the 90-year history of Phillips Industries include:
1928 – H.W. Phillips began as an auto and truck parts distributor in California.
1936 – Hugh Phillips designed and patented the first reflective directional signal arm for trucks.
1968 – Straight 7-way electrical assemblies were manufactured and introduced by Phillips Industries.
1976 – Bob Phillips, currently CEO, designed the SUPERCOIL, the industry's first 7-way coiled electrical assembly in North America.
1982 – Phillips introduces STA-DRY weather-proof socket-breakers to fight corrosion, soon to become the standard at major trailer OEM's.
1985 – The distribution business was sold to focus on manufacturing due to increased demand from fleets and OEM's.
1991 – Phillips acquired and opened an Electrical Harness Division (EHD) dedicated to manufacturing sealed modular trailer harness systems. EHD would expand in production relocating twice in the next 20 years to accommodate its growth.
1999 – New 130,000 sq.-ft. headquarters and manufacturing facility is constructed in Santa Fe Springs, Calif.
2001 – The QCS (Quick-Change Socket) becomes standard at 80 percent of North American truck OEM's.
2010 – Phillips Industries begins production of 12v and 24v products in China for the global trucking market.
2013 – Rob Phillips takes the helm of Phillips Industries.
2013 – The STA-DRY QCMS2 is introduced as the industry's first 7-way electrical assembly with a plug and socket hybrid connection.
2014 – PERMALITE XT lighting with BOARDFREE technology is introduced.
2015 – The Electrical Harness Division (EHD) moves to its current location in Arteaga, Mexico on Avenida Bob Phillips.
2016 – Phillips China moves to new 8.5-acre site.
2017 – A new division, Phillips Connect Technologies (PCT), emerges with the advancement of technology, to develop solutions for future intelligent commercial vehicles.