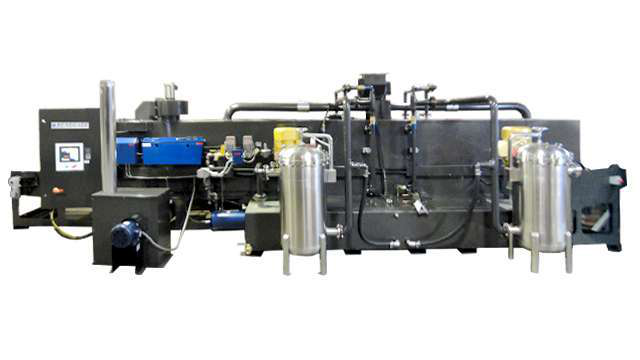 Service Line Inc. has launched the Renegade I-Series Pass-Through Wash, Rinse, Dry Parts Washer System, which is custom-designed to deliver two-stage, continuous cleaning efficiency to clean and dry heavy-duty truck and bus parts transported via inline conveyor operation, according to an announcement.
The wash stage compartment contains oscillating spray manifolds with strategically-placed nozzles to deliver high-pressure force and high-temperature cleaning. The dry stage compartment contains a powerful air blower to remove residual water from hard-to-reach cavities. Conveyor "tunnel" or "flow-through" cleaning systems are designed for high-production, repetitive cleaning operations, and stages can be configured in any order.
Key components of the Renegade I-Series system include a powerful gas immersion heat system; dual six-bag filter assemblies for the wash cycle; power vent for rapid steam removal; PLC/HMI touch screen, user-friendly controls with seven-day timer; filter monitoring; preset maintenance and wash cycles; and temperature display. Additional features include Ethernet connection for remote monitoring; filtered fresh air intake; heavy-duty, variable-speed conveyor transport system; and rugged stainless-steel construction.
The Renegade modular conveyorized cleaning system reduces labor and increases operational efficiency for real impact on operation costs, according to the company. Renegade parts washers are designed to work with Renegade solvent-free detergents for maximum cleaning without residue buildup.