The following comes from the March 2018 issue of Truck Parts & Service. To read a digital version of the magazine, please click the image below.
There is a jack of all trades quality to most aftermarket business leaders.
Take a look at your closest colleagues and competitors. Some grew up in the aftermarket, worked in the family business and went to school to prepare for what they do today. Others started at entry-level positions — working as techs, loading trucks — and were so good at that first job they soon found themselves climbing upward into a career. Others still entered the aftermarket more haphazardly, through personal relationships, business transactions or simply applying for a job while having little idea about the truck parts industry.
The aftermarket is a business where confidence, competency and enthusiasm go a long way. Not every leader is cut from the same cloth, and the aftermarket proves there is no background from which a determined entrepreneur cannot succeed.
And yet, in a business this unique and challenging, good aftermarket leadership also requires a willingness to learn, and the foresight to acknowledge it's impossible to know it all.
This is especially true when it comes to handling the financial side of an operation. What makes a business popular doesn't necessarily make it profitable; good leadership does not always equate to good management.
Running a healthy, lucrative business requires a level of financial expertise that can't always be learned on the job. For business owners and executives lacking formal finance and accounting training, the path to long-term profitability requires partnership and collaboration. No good business is run alone.
Assistance is available for leaders willing to search for it.
Bill Nolan was a certified public accountant before entering the aftermarket and relies on that experience every day as president at PBS Truck Parts. But Nolan also knows his experience is unique in this industry, which is why he advises friends and colleagues who lack his background to seek help anywhere they can.
"It's unfortunate how many great entrepreneurial businesses have left this market because they didn't know enough about their finances or their operation," he says.
Hiring an accountant or an accounting firm to oversee a company's finances is the best way to bring expertise into one's operation. Hiring directly into a business is advantageous but not necessary and, depending on a company's size and needs, partnering with an outside accounting firm may sometimes be preferred. What is important is that the fi rm or person hired will provide analysis and education in addition to their expected fiscal responsibilities.
Additionally, ensuring one's business management software is tracking as much financial data as possible can help provide supplemental information to complement balance sheets and monthly income statements.
"Financial reports are great sources to understand the details or trends of your business. It is the ultimate report card and health check," says Dave Olsen, CEO at TransAxle. "You want to make sure you're always looking at the most up-to-date and relevant information you can."
Once an accounting partner is brought onboard, it's time to open the books.
New accounting associates should be provided full access to a company's financial records, including past income statements, balance sheets and a quick tutorial as to how each document was produced (by department, location, etc.). From there, the associate(s) should be allowed time to study and evaluate the records to confirm the health and solvency of the business.
This can be a tough step for many business owners. Ceding ownership of one's finances, especially in cases where only a few people have been privy to such information, doesn't come naturally. It's why the selection of a proper partner in the previous step is so important. An accountant cannot be expected to accurately evaluate a business without access to all of the data available, and a business owner should not hire an accounting party he does not believe qualified to honestly assess the operation.
Trust must exist between both parties. And when it does, an internal audit and financial status report is the first step toward a sustainable business and profitable future.
This report can be produced and completed in many ways. The key is the new associate be given the time and resources necessary to study a business's recent financial statements and uncover if any errors were made, as well as to better understand the revenue, expenses and income trends within the business.
Once complete, this internal audit immediately should be reviewed by its preparer and anyone among company leadership deemed essential to the discussion.
The accountant who completes the report should lead and identify any instances in which his research and calculations differed from the information initially provided (or assumptions held) by the company's executives. Each of these inconsistencies should be discussed openly in an effort to eliminate any confusion between the parties and educate the accountant on how previous computations were made. A successful balance sheet or income statement produced from this undertaking isn't one that shows huge revenue totals or profit margins, but one with few discrepancies.
Other business resources can be useful during these discussions as well.
Dave Barr, senior product manager at Karmak, says his company's Fusion management system was built with a "focus on data analysis" that enables users to drill down into invoice, purchasing and transaction records within their business to better understand their financial status.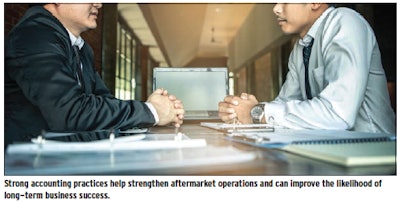 "It's been set up as a one-stop shop for accounting and reporting," Barr says. "We have very large dealerships and we have smaller repair shops using it, and it's been built to work for both of them."
Any review period also should double as the first of many educational conversations between the parties. Nolan says aftermarket business leaders should ask as many questions as possible when discussing their businesses with their accountants, especially when problems arise.
"It's kind of like going to the doctor," he says. "If the doctor tells you your life is on the line, you're not just going to sit there. You're going to start asking questions until you understand what is going on, and what you can do about it."
Good financial advisers should welcome such curiosity and use these instances to explain areas where a company's financial standing can be improved. Whether suggesting revenue generation or cost-cutting measures, accountants should speak freely and openly about their discoveries, and use the data they have on hand to back their claims.
In cases where great suggestions come as a surprise, business leaders should be thankful, not discouraged that they had not uncovered it. Running a successful aftermarket operation is an exhaustive job; an insightful accounting partnership can be a huge advantage.
Interstate Billing has served the trucking industry in this capacity as a value-added partner for more than three decades. As an accounts receivable management firm, Interstate Billing works with independent distributors, service providers and commercial truck dealerships to streamline cash flow and "eliminate the headache of managing receivables so you can focus on grow-ing your company," says Steve Williams, senior vice president and national sales manager.
"Imagine if everyone paid you by credit card. How would your business change?" he says.
That's effectively what Interstate Billing does. By taking on the responsibility of one of the most tiresome and labor-intensive aspects of running a business, Interstate Billing customers achieve an optimal revenue stream that helps simplify all other aspects of their corporate accounting.
And sometimes simplification is all it takes to turn a business around.
Barr says Karmak has brought on customers in the past who, when finally viewing their financial records in a clear and detailed manner, uncovered accounting mistakes that had been plaguing their businesses for years.
"[Customers] found out they weren't doing something right, or that one department was doing something one way and accounting was recording it differently, but that they've both been doing it for so long that no one realized it was wrong," he says.
It's also important to note not every suggestion or proposed change from an accountant will be, or should be, met with universal acclaim. In the way some business leaders aren't financial experts, most accountants aren't pros in the aftermarket.
"You cannot let your accountant run your business," says Nolan. "Your accounting books are an insight to your past. They are not always a good predictor of the future."
That's where an aftermarket leader's industry expertise and diverse complement of skills come in handy.
"It's like a football coach going [into the locker room] at halftime," adds Nolan. "Once he knows what hasn't worked, he has to think about what might work."
When making future business projections, Olsen says he tends to focus on a financial break even analysis that includes the numbers, the risks and the probability of success for a given initiative. Additionally, when considering a new market or coverage area, TransAxle sometimes refers to prior expansions to estimate expenses, but ultimately develops a new pro forma statement each time.
"Each circumstance is going to be different," Olsen says.