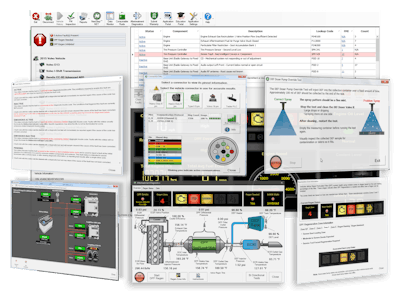 Noregon has announced the second major update of 2018 for its in-shop diagnostic and repair solution, JPRO Professional. JPRO is an all-makes, models and components tool that helps users discover the root cause of issues and guide technicians through the repair process.
JPRO Professional subscribers receive all version releases, patches and coverage updates free-of-charge throughout the life of their subscription. The company notes that users with an active Internet connection receive a prompt in the software when updates are available, but a download link also is available on the company's website.
Consistently adding to its list of bi-directional tests remains a priority for the company. "Through a combination of research and user feedback, we implement the relevant tests and features that will make the technician's job easier and improve the time to get him or her from fault to fix," says Jason Hedman, JPRO product manager. "For example, some problems such as loose electric connections can be a quick fix, but often take technicians a while to diagnose. To alleviate this, we added a wiggle test to this release to pinpoint those issues."
"A tool that empowers technicians to do more, in less time, is never more important than when you're dealing with a shortage of qualified technicians," says Shane Gilliam, Noregon's senior vice president of sales. "As shops are enhancing their capabilities and taking on more jobs, the responsibility falls on the technician to work on all makes and models. This requires a tool that provides not just the coverage, but also the necessary features and tests to diagnose and repair all vehicles that enter the shop. To help with this, we implemented Repair Mentor."
Repair mentor displays all of the current issues on the vehicle, alerts to high priority issues and enables the user to begin the correct diagnostic process. Repair Mentor guides technicians to the necessary starting point for a particular problem, such as the DPF Regen screen or the NextStep service and information portal to follow troubleshooting steps.