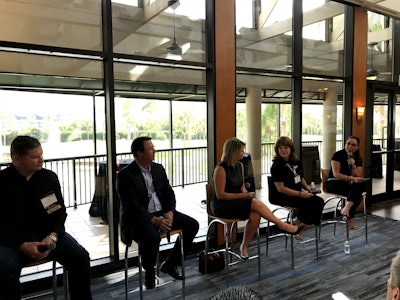 The HDA Truck Pride Truck Pride Annual Meeting Wednesday in Orlando was the scene of GenNext's first industry panel discussion of 2019.
Featuring John Bzeta, president, Fleet Brake; Dominic Grote, president and CEO, Grote Industries; Paige Petroni, executive vice president, Fontaine Fifth Wheel; and Tina Hubbard, vice president of marketing and program management, HDA Truck Pride; Wednesday's panel focused primarily on what led these successful professionals into the aftermarket and the reasons why they remain engaged. With an underlying focus on the industry's next generation, Wednesday's panelists were in agreement that the aftermarket's biggest resource in retaining quality people is the market itself.
Selling truck parts isn't "sexy," the panelists say, but the people and the work are top notch.
"I've been in a lot of industries and I've never seen such loyalty in an industry than I see in this industry," says Petroni. An accountant by trade, Petroni joined Fontaine Fifth Wheel 11 years ago in the company's finance department. After stints there and in operations she was introduced to the aftermarket channel and its people. She says she was quickly hooked, and when the chance to step into a leadership role in the market became available she jumped at the chance.
People in the aftermarket aren't the just loyal to companies, Petroni says, they are also "loyal to each other."
Loyalty can be a great tool for employee retention as well, says Bzeta. He says Fleet Brake views itself as a "fleet specialist," a one-stop-shop to solve any customer problem. Bzeta says he'd love to exclusively hire aftermarket veterans who understand that value proposition innately but says that's impossible. So, instead, Fleet Brake makes it a priority to seek employment candidates that at least have an attitude that lends itself to that customer-focused mentality. And when those associates are hired, Bzeta says he does what he can to keep them engaged, updating workspaces and offering gift cards to top performers to show appreciation for what they mean to the company.
"You want to become the employer of choice," he says.
Grote adds another useful tool he's found in recruiting is shifting his company's messaging away from what it does and instead focusing on the technology Grote Industries relies on in its business each day. He says the U.S. manufacturing sector among the strongest adopters of technology in the world. Young people are intrigued by that, Grote says.
"You can use that as a tool to draw in a lot of different folks," he says.
Wednesday's discussion also touched on aftermarket demographics. Though the aftermarket remains male-dominated, the panelists say they are witnessing more women and minorities making their way into the channel. Earlier in her career Hubbard says she was the first female heavy-duty sales representative in Federal-Mogul history. Though she remains proud of that accomplishment, she's more thrilled to see Petroni and other women — such as Wednesday's moderator Nikki Paschall, HDA Truck Pride director of marketing — joining her in the aftermarket, and thriving.
"If you have the right attitude, there are great opportunities here," she says.