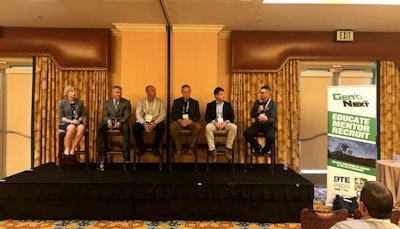 Employee recruitment and retention tips, industry fluctuations and technology dominated discussion at GenNext's industry panel discussion Monday at the VIPAR Heavy Duty IMPACT Conference in San Antonio.
With representatives from stockholder (Robyn Spitzke, Fort Garry Industries; Allan Parrott, Tidewater Fleet Supply) and supplier (Ed Powderly, BettsHD; Rob Myers, Phillips Industries) businesses as well as VIPAR Heavy Duty (Jim Pennig, vice president, business development), every participant on Monday's panel was optimistic for the future of the independent aftermarket but acknowledged the market is not without its challenges.
Some of them, such as employment, are major struggles.
The distributors on the dais Monday said they've found success implementing new business technology and tools that appeal to younger audiences. Spitzke said young people spend all day on a computer or phone and they expect their employer to be as proficient in that area as they are. Parrott agreed, and noted Tidewater Fleet Supply works hard when hiring new people to showcase the career opportunities that exist within the business. He said the company has had success recently promoting young people up into positions of growing authority and responsibility, and hopes those examples show the potential for others.
Powderly said he was fortunate to have that opportunity when he entered the trucking industry on the supplier side. He said he spent more than a decade at his last employer and has been with BettsHD for five years because each company had clearly established career paths available to all associates.
But Spitzke said young employees also need to realize many businesses in the aftermarket weren't always built in that manner. Many leaders and executives in today's market reached their positions through their commitment, aptitude and ambition. She said young employees who are able to anticipate what their superiors expect of them are more likely to have advancement opportunities.
It's also important for young associates or anyone new to the market to be a quick study, added Myers, who entered the aftermarket from another industry. Speaking on his career experience, Myers said he immediately learned upon entering the market how much information is available if you're willing to ask for it. He said new associates who are purposeful about who they reach out to and focus on being good listeners will have a leg up within the industry.
Finally, touching on the status of the industry, Powderly said aftermarket businesses should be prepared for a potential slip in 2020. He said throughout his career every time new truck sales and orders have slowed aftermarket sales have followed. But a weaker 2020 doesn't mean the aftermarket should start cutting resources, or employees. Pennig said longtime VIPAR Heavy Duty stockholder Harvey Peterson of CATCO Truck Parts & Service was always adamant that it is in lean times that hiring and retaining talent is most important. Pennig said businesses willing to invest during a downturn are more likely to avoid bottoming out during the lull and most likely to lead the market out on the other side — a message that was agreed on by everyone else on the panel.