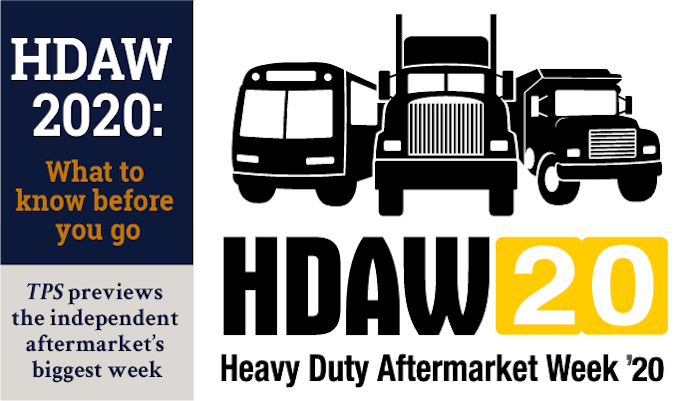 In building the agenda for this year's Heavy Duty Aftermarket Week (HDAW), event co-chairs Sean Ryan of Point Spring & Driveshaft and Tim Bauer with Eaton zeroed in on three topics they felt were necessary to address in the convention's breakout workshop sessions.
Two of those topics, customers and technology, will be addressed by first-time HDAW presenters Rob Bradenham of Decisiv and Lindsay Duran of Zilliant. But for the third topic, product development and trends, HDAW will be back a familiar face.
"HDAW has asked me to come back to discuss product trends and I'm excited to do so," says Rich Ferguson, president and general manager, Ferguson Partners. Ferguson graced the HDAW stage for the first time in 2017 with a presentation designed to help aftermarket distributors discover their competitive advantage. Ferguson touched on a number of emerging products during that prior workshop and says his upcoming presentation will check back on those developments before turning attention to 2020 and beyond.
"I want to focus on the fundamentals and the overall changing landscape of the trucking industry and the aftermarket," he says. "We won't have time to address every new product that's coming [out] but I hope to address major developments so [attendees] know what types of things they should be preparing for and thinking about."
Ferguson says some component systems he referenced in 2017 requiring further evaluation this year are proprietary powertrains, automated manual transmissions and diesel aftertreatment systems.
Regarding the first two technologies, Ferguson says new truck buyers have only increased their acceptance of these systems in the last few years, which means second- and third-generation truck owners and their independent aftermarket partners are likely to see a boom of the technology in their businesses at any moment.
Conversely, though aftertreatment systems have now been in use for a decade, few businesses in the independent aftermarket have invested in DPF cleaning and service equipment to assist truck owners of all generations who are languishing under the heavy financial burden of maintaining these systems.
"Too many have been slow to that particular area," Ferguson says, "and it's very lucrative."
Ferguson says he also hopes to offer guidance for attendees on how to best identify products and vehicle systems they are most likely to encounter in their businesses. He says a spring and suspension specialist might not be impacted by engine advancements, for example, but they will be expected to understand the new "smart" componentry found in the undercarriage of new trucks.
Ferguson adds its time the aftermarket understand "smart" technology as well. Today's new equipment is covered in sensors that monitor every aspect of performance. Ferguson says OEMs, first-owner fleets and their dealer partners have already started using this telematic data to reduce downtime, which means the acceptance of secondary owners is likely to occur in the coming years. When it does, Ferguson says it would behoove the aftermarket to be prepared to assist.
"The aftermarket is all about reacting," he says. "It's about understanding the nature of your customer base and knowing what products making big splash headlines now are going to find their way to your business in three to six years."
Ferguson admits that concept isn't new. He even acknowledges he hopes his presentation will serve more to nudge attendees to finally invest in learning and understanding more about technologies they are already aware of and may have seen on some customers' trucks.
He says: "If [the presentation] is a grand revelation to any of them I fear they've already missed some trends."
Ferguson's breakout session will be held twice, from 9:30-10:15 a.m. and 10:30-11:15 a.m. CT, Tuesday, Jan. 28, 2020, during HDAW.
This is the sixth of eight Trucks, Parts, Service articles previewing Heavy Duty Aftermarket Week (HDAW) 2020. The seventh article in the series will address changes to HDAW's one-on-one meetings and distributor training events and will be posted next Tuesday. Prior HDAW 2020 preview articles can be found below.
HDAW 2020 Preview: Despite new home, co-chairs say same great event planned for January
HDAW 2020 Preview: The industry's biggest week expands; now features trio of complementary events
HDAW 2020 Preview: 'Shark Tank' star to talk branding, entrepreneurial skills during keynote address
HDAW 2020 Preview: Decisiv to address trucking's growing service ecosystem
HDAW 2020 Preview: Workshop to help distributors find the right insights from their data