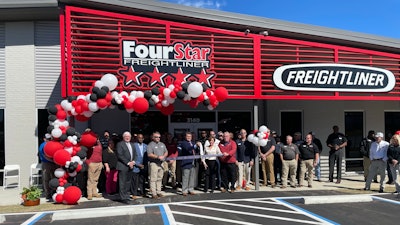 Four Star Freightliner recently held an open house on Oct. 20, at its new facility in Montgomery, Ala.
Four Star Freightliner has invested $5 million into the building, which was originally built in the 1960s. The store is located at 3140 Hayneville Road in west Montgomery. Four Star moved into the building in 2000 and Dealer Principal Jerry Kocan decided to make major renovations and give the property a more modern look both inside and outside.
The company says a few of the projects included:
Addition of four service bays
New diesel technician breakroom
Addition of seven offices, two restrooms
New tool room
Remodeling of restroom and locker room in service department
Purchase of six acres to allow for more capacity in service department
Asphalt parking lot resurfacing
Four Star Freightliner employs 45 people at its Montgomery location. However, with a total of seven locations in three states, the company says it has more than 200 team members.