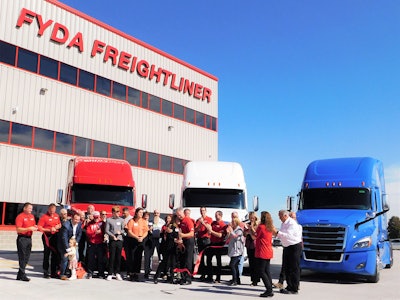 Fyda Freightliner Columbus held its building dedication and ribbon cutting ceremony last week.
The new location, which was announced earlier this year and includes a SelecTrucks facility, is located at 2700 NE Plain City Georgesville Road in West Jefferson, at exit 85 off I-70.
Last month's event was attended by almost 40 vendor companies and more than 500 customers, vendors, and employees. In addition, there were several members of the Madison County Chamber of Commerce, West Jefferson Fire and Sheriff's departments and other local dignitaries in attendance.
"We are pleased by the turnout of so many of our customers and vendors, as well as local business partners, dignitaries and heroes," says Gary Tiffan, general manager of Fyda's Columbus and Zanesville operations. "It was a special day to recognize all who have made the project possible and thank members of the community for welcoming Fyda to the area."
During the Grand Opening, Tim Fyda, president and CEO of Fyda Freightliner, dedicated the new building to Matt Powell, the general contractor whose vision has brought to life four of the Fyda locations, as well as renovations for the other three locations. Powell died in a tragic accident in January 2022 and was unable to see this project to fruition. His wife Robin cut the ribbon during the ceremony with their three children standing with her.
"It was a privilege to have Matt's family here with us on this special day. We knew Matt for 28 years, and his insight and expertise made this all possible. He is truly missed," Tim Fyda said.