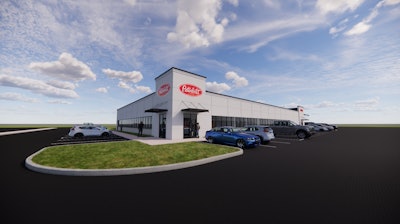 The Larson Group (TLG) Peterbilt recently broke ground and began construction on a new facility for its TLG Peterbilt – Dayton dealership in Tipp City, Ohio.
Slated to be completed in summer 2023, the new TLG Peterbilt –Dayton will be a full-service dealership offering new and used truck sales, parts, and service. The Tipp City facility is located at 450 S Kinna Drive and will offer customers convenient access to I-75. Currently, the Dayton facility is a parts and mobile service location in Huber Heights. TLG has 25 locations in eight states.
TLG says this new 41,258 sq.-ft., building will offer a host of industry-leading amenities and features designed to give customers a first-class Peterbilt dealership experience. The new building is being designed and built by Cincinnati Commercial Contracting who also completed the renovations and additions to TLG Peterbilt – Cincinnati that were completed in 2020, TLG says.
[RELATED: CSM adds parts facility in Florida]
"We are thrilled to be able to work with The Larson Group on a second project! The effort, detail and care TLG has put into our collaborations truly makes this a first-class facility," says Justin Platt, vice president, principal of CCC. "With I-75 in the front yard, it is going to be very exciting to watch this project take shape."
TLG says the new facility will feature modern office space for TLG employees and be a welcoming space for customers who may recognize some of the same design features seen at the Cincinnati dealership. It will also include an extensive 1,600 sq.-ft., parts showroom for merchandise and parts displays. A nearly 11,000 sq.-ft., parts warehouse will help ensure customers and technicians can get the parts they need when they need them to support customer uptime and keep drivers on the road.
Currently a parts and mobile service location, TLG adds the new Dayton facility will now offer a full-service department for commercial truck repair and service solutions. Featuring 20 service bays, a wash bay and a 5-ton overhead crane, TLG Peterbilt's award-winning service technicians will be able to support customers and their fleets with timely and expert repairs they have come to depend on to maximize their uptime, the company says.
As a company founded by drivers-turned-dealers, TLG Peterbilt knows the value of driver comfort both in and out of the truck. The service area will also include a modern drivers' lounge with showers and a laundry facility.
"As TLG celebrates 35 years in business, having Dayton become a full-service location is a reminder of how far we've come as a dealer network," says President and CEO Glenn Larson. "We are excited for this new opportunity which would not be possible without the support of our customers and dedicated employees."