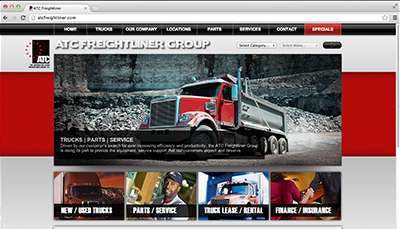 The ATC Group has announced Wednesday the launch of its new ATCFreightliner.com website.
"We are confident our customers will find the new ATCFreightliner.com is unique among heavy truck dealerships," says Steven Silcox, corporate marketing manager, "but we will continue to work with our customers and facility managers to make improvements and increase value."
Many of the new features of ATCFreightliner.com were developed based on customer feedback and include better filtering options and interactive tools, easier navigation, educational tools and a more enjoyable experience while shopping online for trucks or heavy-duty parts, ATC Group says.
Redesigned in partnership with SOARR, the new ATCFreightliner.com has a simpler look that showcases the Daimler Trucks North America product. Different tabs make it easier to find information or contact salespeople for recommendations.
Other improvements include category filtering for trucks, as well as online user ID and password forms for direct inventory ordering and checkout processes, ATC Group says.