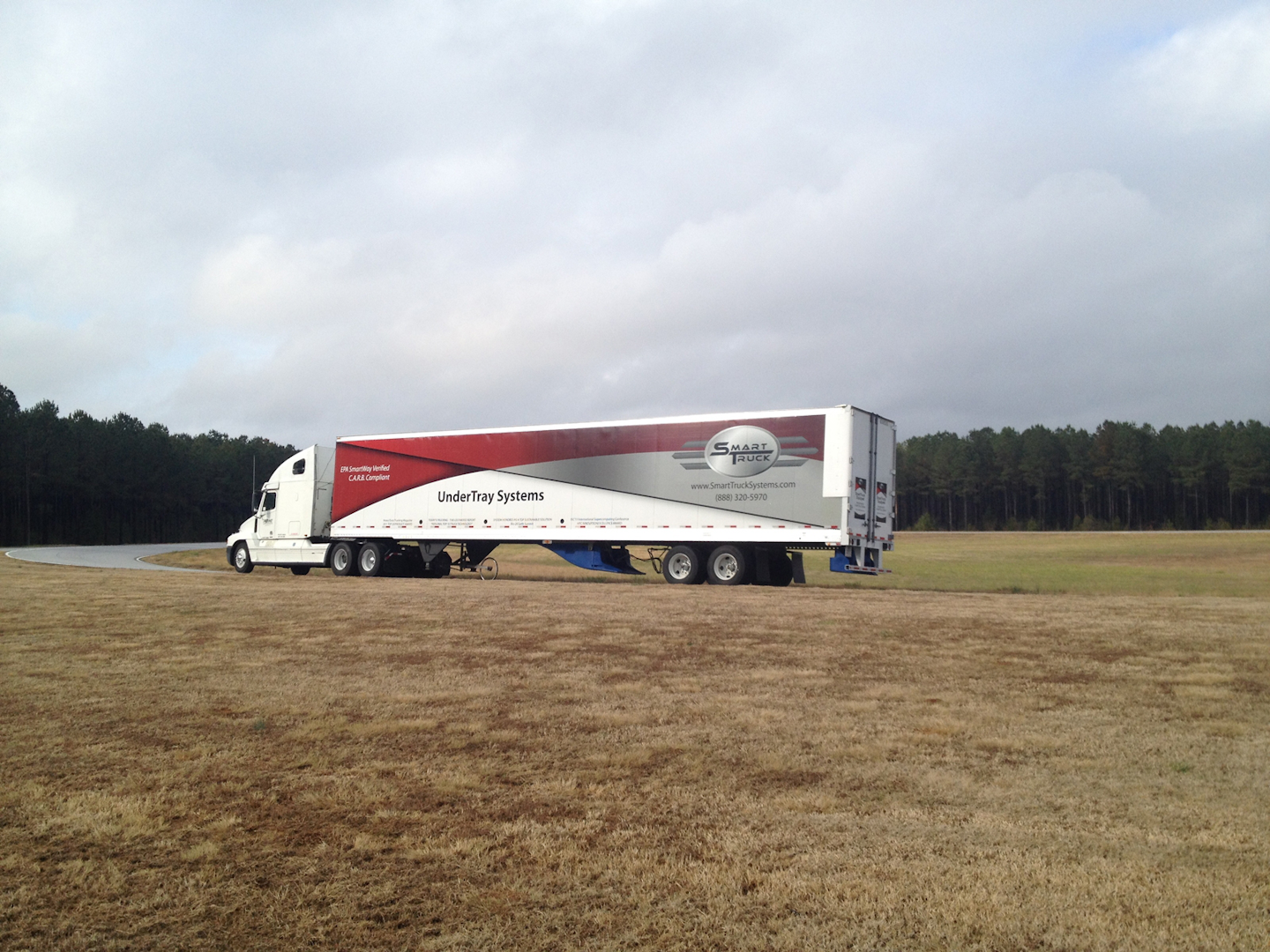 SmartTruck announces its UT6PLUS aerodynamic under tray trailer product has been proven to offer the fuel saving performance required by the EPA's new SmartWay Elite program as a stand alone product.
SmartTruck says the UT6PLUS is the only product on the market today solely capable of meeting that standard.
To reach the SmartWay Elite standard, trailers must be equipped with aerodynamic devices that provide at least a 9 percent improvement in fuel economy.
"The new Elite level from SmartWay is a very aggressive performance level for a single product," says Mike Henderson, chief scientist for SmartTruck. "While there are a wide variety of aerodynamic products out in the market from a host of companies that can be pieced together and added to a trailer to deliver SmartWay qualifying savings, our SmartTruck UT6PLUS product is a 'one-stop-shop' to attain SmartWay Elite status — one product from one company. This innovative and high-performing product allows fleet managers and owner-operators to streamline their aerodynamic program purchases and installations."
SmartTruck says the UT6PLUS product's fuel savings were verified based on multiple testing protocols, including coastdown testing and computational fluid dynamics (CFD) — testing that is validated by dozens of fleets and owner-operators who benefit from the Elite-level product performance in actual, real-world service. In addition to robust fuel savings, SmartTruck says its products deliver leading durability, a key factor among trailer owners and maintenance personnel when choosing aerodynamic devices. To demonstrate its products' durability, SmartTruck has also introduced a new 15-year limited warranty on its under tray products.
"Once we completed our fuel testing of SmartTruck's UT6PLUS, we made the decision to remove our skirts and tails and replace them with SmartTruck's product," says Randolph Crowder, vice president of maintenance for Carolina Cargo. "The overall fuel savings were greater, and it was clear to us that the maintenance and durability was far superior."
SmartTruck also announces a third-party test performed by the University of Tennessee at Chattanooga has proven SmartTruck's base trailer aerodynamics system significantly reduces drag, translating into proportional fuel savings. The UT-C study found the system reduces drag, equating to highway fuel savings of approximately 6 percent, SmartTruck says.
"The University of Tennessee at Chattanooga's Sim Center is a widely recognized aerodynamics and computing leader in the academic world," says Henderson. "Their studies and reputation are held in high esteem in the trucking industry and beyond, so we're encouraged by the testing results, which are right in line with our internal testing and other third-party testing of our suite of aerodynamic products."
The UT-C study comes on the heels of another third-party computational fluid dynamics (CFD) test conducted by CD-adapco and released in October 2013. The CD-adapco test showed SmartTruck's base UnderTray product reduced drag, equating to highway fuel savings of approximately 7 percent. SmartTruck says CD-adapco is the world's largest independent CFD-focused provider with more than 30 years of experience in delivering industrial strength engineering simulation.