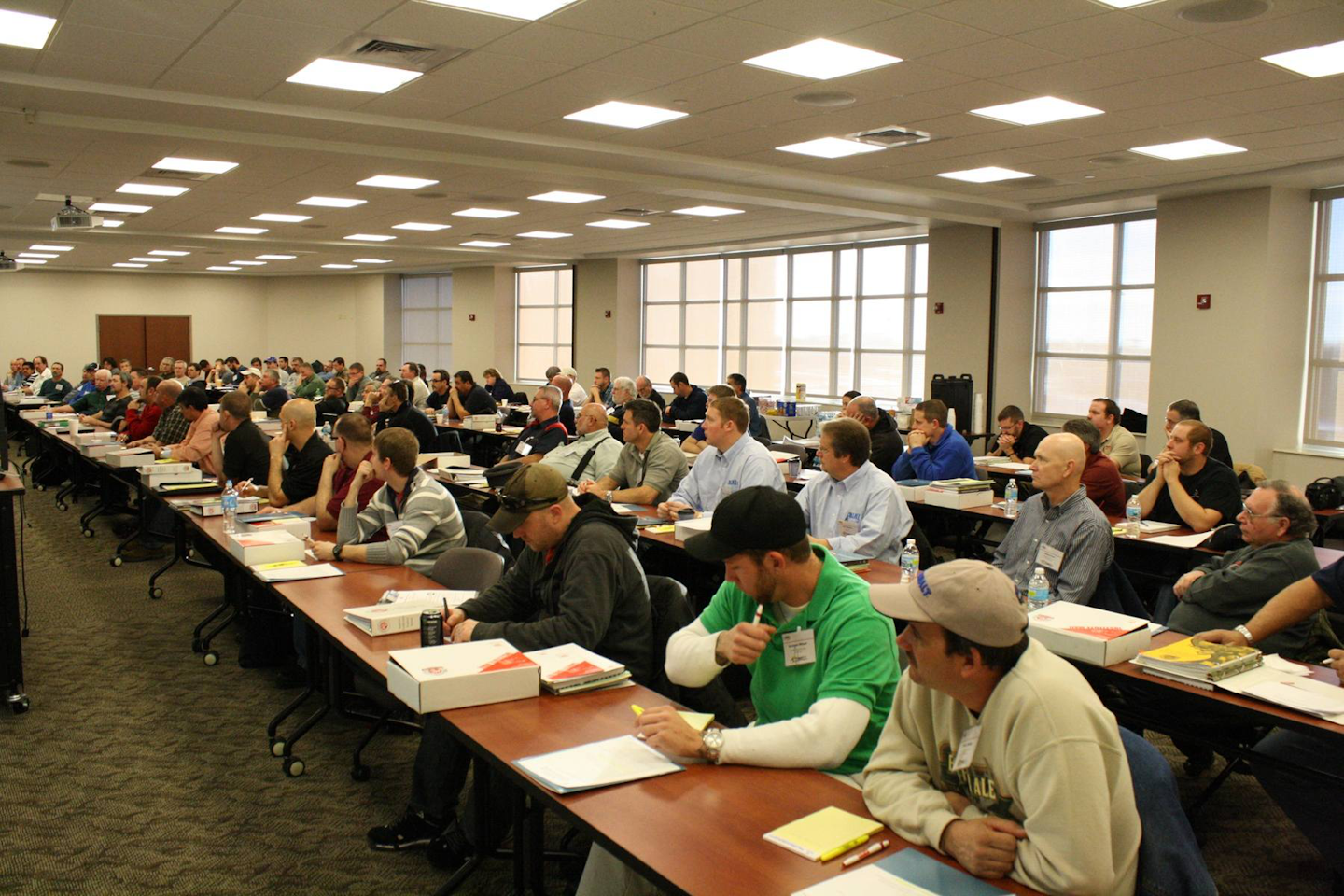 Rotary Lift announces more than 50 members of its extensive service network have completed the Automotive Lift Institute (ALI) Lift Inspector Certification Program over the past nine months, considerably bolstering the company's overall network.
The certifications mean Rotary Lift has more ALI Certified Lift Inspectors within its distribution channel than any other manufacturer.
"Rotary Lift's distributor and installer network includes more than 400 companies spread across the United States and Canada," says Ron Lainhart, parts and service manager for Rotary Lift and an ALI factory designated trainer. "We have taken a leadership role in supporting the ALI Lift Inspector Certification initiative so that lift users everywhere can turn to a trusted name for inspections. More than half of all ALI Certified Lift Inspectors are affiliated with Rotary Lift and are qualified to inspect lifts built by any manufacturer."
Annual vehicle lift inspections are required by ANSI/ALI ALOIM-2008, the national standard covering vehicle lift operation, inspection and maintenance. Annual inspections by an ALI Certified Lift Inspector protect employees and maintain bay productivity by identifying any lift issues before they grow into major problems, Rotary Lift says. Certified Lift Inspectors follow standard inspection procedures approved by ALI, so they will not miss something a non-certified inspector might overlook.
More than half of all the distributors and installers within Rotary Lift's service network have enrolled an employee in the ALI Lift Inspector Certification Program. That number will grow substantially by the end of the year, the company says, because Rotary Lift is requiring each of its Rotary Authorized Installers (RAIs) to have at least one Certified Lift Inspector on staff by 2015. RAIs are the factory-trained exclusive providers of Rotary Lift warranty work. They are the only distributors who are authorized to install Rotary Lift's popular SmartLift and MOD series environmentally friendly inground lifts and heavy-duty parallelogram lifts, the company says.
"RAIs have traditionally been able to provide for any customer need, and now they will also be able to add professional lift inspections to their portfolio of services," says Lainhart.
Rotary Lift says distributors and installers with inspectors who've achieved ALI certification since August 2013 include:
A & W Maintenance, Tampa, Fla.
Automotive Lift Specialist, Allentown, Pa.
Automotive Technology, Fenton, Mo.
Bill's Hydraulic Jack Service, Sacramento, Calif.
C.A. Rife, Royal Palm Beach, Fla.
Columbus Oil Co., Columbus, Ohio
CTL Hydraulics, Bettendorf, Iowa
Danielson Equipment Co., Omaha, Neb.
Doehrman Company, Phoenix, Ariz.
Douglas J. Ward Pump Service, Vestal Center, N.Y.
Dows Equipment Sales & Service, Romulus, MI
Edward and Sons Automotive, Pleasanton, Calif.
Filtrec Corporation, Auburn, N.Y.
Florida Lift Experts, Orlando, Fla.
Garage Equipment Solutions, Castleton, N.Y.
Jemko Petroleum Equipment, Erie, Pa.
John Percy Services, Lancaster, N.Y.
Laub Equipment Services, Galloway, Ohio
Lift Works, West Bridgewater, Mass.
Lift Works, Lee, N.H.
Lordco Parts, Maple Ridge, British Columbia, Canada
Matz Equipment Services, Bridgeport, W.Va.
MJS Holdings, Eastern Passage, Nova Scotia, Canada
Moore Equipment Sales, Ranger, GA
MTD Services, White March, Md.
Newman Equipment, Miami, Fla.
Norman Story & Associates, Flemingsburg, Ky.
Norwest Shop Equipmens, Spokane Valley, Wash.
O'Brien's Lift Service, Loveland, Colo.
Oil Equipment Co., Madison, Wis.
Ott Equipment Service, Noblesville, Ind.
P.R. Streich & Sons, Franklin Park, Ill.
Pacific West Contractors, Spanaway, Wash.
Price Equipment Services, Nashville, Tenn.
Red's Equipment Warehouse, Syracuse, N.Y.
Reliable Hydraulics, Smyrna, Ga.
Roundout Lift, Ulster Park, N.Y.
Stephen Graga Construction, Farmingdale, N.J.
Turner Hydraulics, Carlisle, Pa.
U.S. Petroleum Equipment, Kimberly, Wis.
Universal Distribution Group, Charlotte, N.C.
Walker's Hydraulics, Concord, Calif.