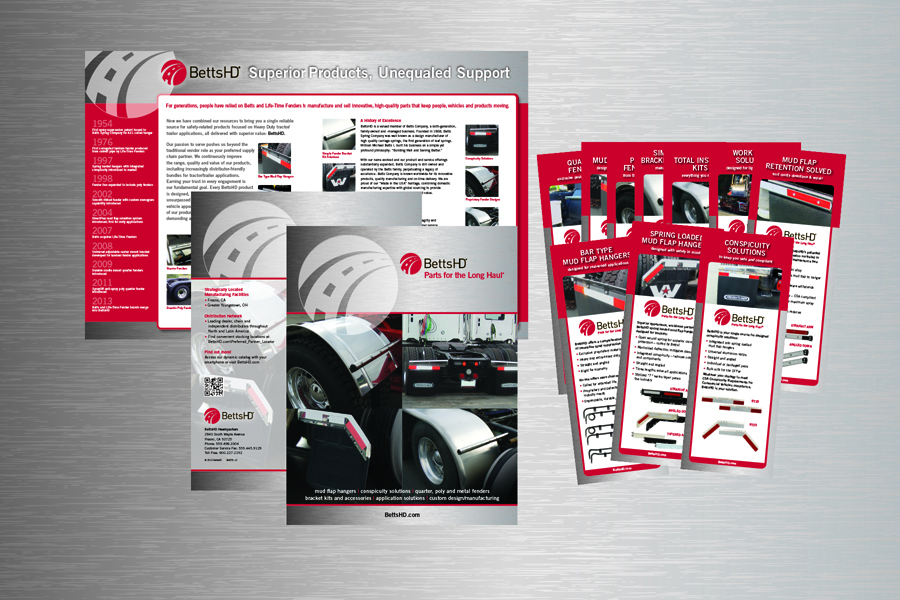 BettsHD continues to execute its new branding initiative with the introduction of a new sales brochure and pinpoint marketing cards.
The new marketing tools help introduce customers to the BettsHD product line of spray suppression products, the company says, which include quarter fenders, poly and metal fenders, mud flap hangers and other related components.
"In 2013, we announced the formation of BettsHD," says Bill Betts, vice president, Betts Company, "which combined the legacy brands of Betts and Life-Time Fenders into a single reliable source for safety-related products focused on heavy duty tractor/trailer applications. Our new marketing materials are attractively designed to help tell the history of this division and fits with our new tagline, 'Parts for the Long Haul.'"
Betts HD says its new sales brochure provides a quick overview of the division, along with the performance, functionality and performance characteristics of the products manufactured. It also supports the BettsHD culture of integrity and professionalism, which is evidenced by numerous awards earned from leading OEM tractor manufacturers in commercial transportation, the company says.
New BettsHD pinpoint marketing cards are designed to fit into standard display racks. Each of the 10 cards contain quick to understand facts that catch the eye of the reader and a place for local distributors to include their contact information, the company says.
A QR code on each card provides convenient access to the BettsHD catalog using a smartphone. The cards include many popular BettsHD products, including bar type mud flap hangers, spring loaded mud flap hangers, conspicuity solutions, mud flap retention, quarter fenders, poly fenders, proprietary fender designs, fender bracket kits, total installation kits, and work truck solutions.
BettsHD says it marketing materials are available from authorized distributors or directly from BettsHD.