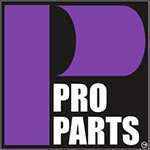 The first Pro Parts Annual Meeting was a busy one.
Held from Dec. 8-10, 2014, in Pompano Beach, Fla., Pro Parts says the event was attended by 75 percent of its suppliers and 95 percent of its membership.
The three-day event included one-on-one meetings, a product expo and social activities encouraging interaction between members and suppliers. The product expo included promotions offered by suppliers that generated more than $1 million in sales for the one day event.
Pro Parts says members and suppliers also were introduced to new upgrades to the proprietary Pro Parts Business System during the event. Added features now include a complete integration of members and suppliers in a B2B procurement process and complete on-line cross reference part number system with access to more than 30 million part numbers.
The Pro Parts Business System and national supplier programs allow their members tremendous advantages to aggressively participate in the light-, medium- and heavy-duty aftermarket parts businesses, the company says.
After such a successful first meeting, Pro Parts says plans are already in motion for its next annual meeting, from Dec. 7-10, 2015, in Clearwater Beach, Fla.
For more information about the Pro Parts network, or to join, contact Executive Vice President John Younger at 859-795-0579, or jyounger@proparts1.com.