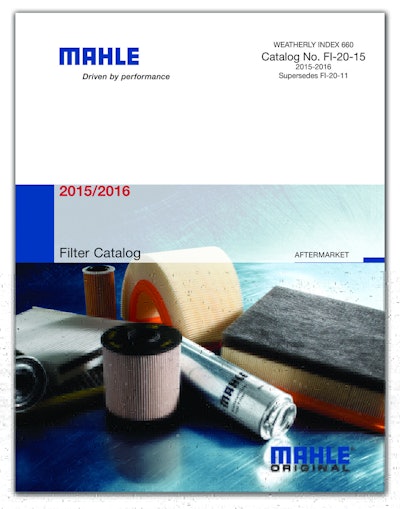 MAHLE Aftermarket Inc. has released a comprehensive filter catalog for vehicle applications in the United States, Mexico and Canada, that includes all the company's product offerings in one resource.
The catalog, which covers more than 90 percent of vehicles in operation in the three countries, features over 1,200 air, oil, fuel and cabin air filters, including 125 new part numbers, the company says. The catalog is written in English, French and Spanish.
"Our new catalog represents a comprehensive offering of filters for the vast majority of vehicles on the road today," says Jon Douglas, general manager, MAHLE Aftermarket North America. "The catalog, which makes all our offerings available in one place for the first time, expands upon MAHLE's role as a leading North American aftermarket parts provider."
The catalog can be downloaded in PDF format on www.mahle-aftermarket.com. It is also available online at catalog.mahle-aftermarket.com/na, where the application can be searched by product, vehicle make and engine, the company says.