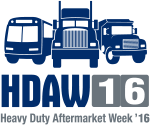 Butch Hill, founder of Hill Diversified Group, LLC, will present "Merchandising 2.0 – The Importance of Merchandising" on Jan. 26, 2016, at Heavy Duty Aftermarket Week (HDAW) 2016.
According to HDAW organizers, the session will highlight merchandising concepts, as well as effective product placement techniques to encourage customers to spend, increasing sales opportunities for distributors.
"Merchandising is becoming an important sales tool in the heavy-duty industry, allowing heavy-duty distributors to implement marketing strategies through store layout and visual product display opportunities, increasing their bottom lines. Attendees will have valuable takeaways that they can immediately implement in their businesses," says Hill.
Session attendees will learn the importance of floor layout and using plan-o-grams to enhance product awareness, how point of sale and category management information can increase sales and the steps needed to implement successful merchandising.
Additionally, exhibiting suppliers are encouraged to participate in the session by having photos of their plan-o-grams or an actual gondola display in their Product Expo booths during HDAW '16. Those participating in the merchandising program will have a mark on their booth location on the HDAW floor map indicating they are participating in the program. Distributors will be able to see the options they have to better display supplier products in their showrooms, organizers say.
HDAW '16 will be held from Jan. 25-28, 2016, at the Mirage in Las Vegas.
Hill began his career as an automotive technician, and founded his own marketing and advertising company in 1997. He has worked for Borg-Warner, Tomco and Cooper/MOOG automotive in sales or as manager of marketing and promotions. In 1999, he created the industry's first Heavy-Duty Merchandising Seminar. He has visited heavy-duty distributors across the country helping them with their store merchandising.