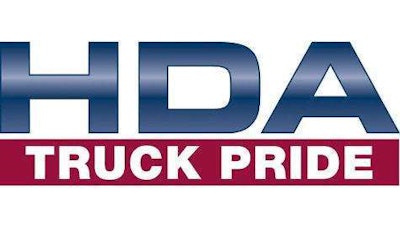 HDA Truck Pride is branching out of the heavy-duty aftermarket in an effort to better serve its customers.
On Thursday at its annual meeting in San Antonio, HDA Truck Pride announced a new partnership with the Aftermarket Auto Parts Alliance (AAPA) and the creation of the Aftermarket Distributors Alliance, LLC, which the two companies believe will allow distributors within both organizations to better serve customers operating throughout the light-, medium- and heavy-duty markets.
The new alliance was introduced to HDA Truck Pride members by the organization's President and CEO Don Reimondo, and AAPA President and CEO John Washbish.
"For years aftermarket practitioners have arbitrarily partitioned their businesses by vehicle types or market segments, such as truck parts of collision parts or performance parts," says Reimondo. "While that may have made sense in the past, both John and I propose that updating business practices and introducing technology to look holistically at the parts distribution business makes as we move toward the future."
The partnership between HDA Truck Pride and AAPA was a natural fit because the two groups share many of the same members.
Reimondo and Washbish says this partnership will allow those businesses to better work together and communicate with each other, while also enhancing parts access for distributors on each side, improving parts fulfillment and, ultimately, customer experiences.
"Increasingly we see both national accounts and fleets that are looking to consolidate their sourcing and seeking suppliers that can connect with them electronically. The combined resources of AAPA and HDA Truck Pride can deliver just that," Washbish says.
Organizers say the Aftermarket Distributors Alliance will benefit distributors with the management of national and regional accounts, will allow cross purchasing and group warehouses, develop new technology, improve vendor relations and provide potential for international business expansion.
Reimondo and Washbish says members of the Aftermarket Distibutors Alliance will rely on each other's expertise to best manage every customer experience.
Reimondo gives the example of a national fleet with midsize vans up through the specialty heavy-duty trucks. HDA Truck Pride and AAPA will work in conjunction to build a relationship with said fleet, and educate distributors on both sides to best serve the customer where they have locations.
"Our focus is on collaboration," he says.
Regarding cross purchasing and group warehousing, the Alliance will encourage HDA Truck Pride and AAPA members to purchase 'non-stocking' parts from one another, and approved members will be given the opportunity to purchase directly from each group's warehouse.
"Our concept was to create an environment where we could expand our mutual footprint to sell more products and services for both groups, with an emphasis on National, Regional and Fleet Accounts," Reimondo says. "It is a forward-focused strategy based on selling more, not just buying better."
The Aftermarket Distributors Alliance, LLC, will be equally owned by AAPA and HDA Truck Pride. Both groups say the partnership received unanimous support from each respective board of directors.