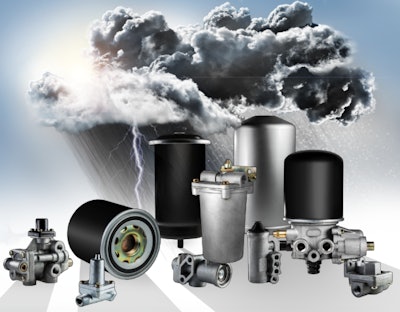 As the trucking industry heads into the brunt of winter, Tectran is providing a series of tips covering the basic steps of preventative maintenance to get through the cold months with fewer malfunctions. The most recent edition addresses winterizing the air system.
Desiccant cartridge life can be from three months to three years based on compressor oil passage and duty cycle. For best results, if your dryer design gives you direct access to the desiccant cartridge, replace it every autumn. With this design, it's fast and easy to replace the cartridge to avoid "truck down" issues when it gets extremely cold. If you are using a design where you have to disassemble the dryer to replace the cartridge, the inspection of the wet tank will be your guide. When in doubt, always replace the cartridge. Remember the performance of downstream air system components is dependent on clean, dry air. Most fleets replace desiccant cartridges every year, according to Tectran.
The purge area of the air dryer is susceptible to malfunction because of the contaminants that pass through it. If your truck has high air usage or if you replace desiccant cartridges often, then autumn is also a good time to replace the purge valve.
Check the air dryer heater for proper voltage to the heater; that it is properly grounded, most commonly to the frame rail; and that it is functioning properly.
If your vehicle uses an alcohol injector/evaporator, fill it up with approved air brake anti-freeze. Typically, these are not needed in today's air systems using air dryers, but they can be a good supplement to the air dryer in colder climates. Never add air brake anti-freeze directly into air lines.
Tectran now offers a line of OCP Model 9 and 1200 air dryers and desiccant cartridges. Its OCP line offers the same features and benefits of its standard line, with the addition of an oil coalescing filter to provide greater protection against oil particles entering the air system, the company says.