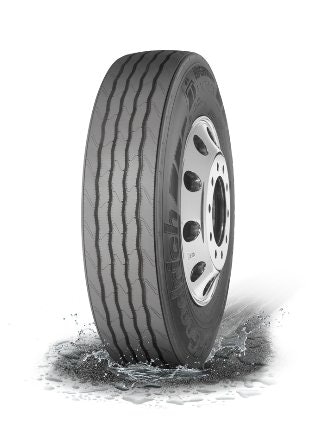 BFGoodrich has announced the launch of two new tires, the Highway Control S and Highway Control T.
"BFGoodrich commercial truck products are built to deliver long, even wear and fuel-efficiency performance to get the job done — even in tough conditions. It's a brand that fleet operators can count on," says Adam Murphy, vice president of marketing, BFGoodrich commercial truck tires.
The company says the new BFGoodrich Highway Control tire line, which is SmartWay-verified, is designed with features that include:
New sidewall compounds designed to provide fuel efficiency without sacrificing wear.
Improved shoulder rib with microsipes to improve resistance to irregular wear.
New tread design with optimized microsiping, which fights the onset of irregular tread wear.
Serpentine flow-through grooves designed for outstanding water evacuation and all-weather confidence.
Variable-groove wall to help reduce stone retention and extend the casing life.
Excellent retreadability.
The BFGoodrich Highway Control S (steer/all-position) tire is available immediately and replaces the BFGoodrich ST 244 in sizes 11R22.5 and 11R24.5 (Load Range G), 11R22.5 and 11R24.5 (Load Range H), 275/80R22.5 (Load Range G) and 285/80R24.5 (Load Range G).
The new BFGoodrich Highway Control T trailer tire will be available May 1, and replaces the BFGoodrich TR 144. Highway Control T offers many of the same features as its steer counterpart, with new sidewall compounds designed for fuel efficiency without sacrificing wear.
The Highway Control T incorporates a shoulder-decoupling groove with microsipes to help fight the onset of irregular wear. The trailer-tire has a long tread life and its pass-through groove is designed to provide outstanding water evacuation. The BFGoodrich Highway Control T tire is available in sizes 11R22.5, 275/80R22.5, 11R24.5 and 285/75R24.5 (Load Range G).