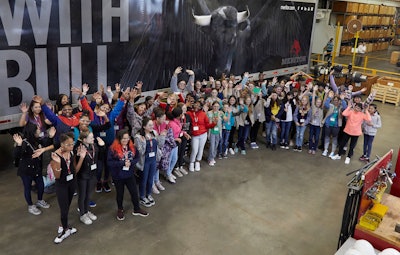 Meritor recently gave the Girl Scouts of Southeastern Michigan a hands-on look at possible careers in STEM (science, technology, engineering and mathematics) fields during an event at its Troy, Mich., headquarters.
"Introducing girls to fulfilling STEM careers at an early age will drive future innovation in the engineering and manufacturing industries, ultimately resulting in a positive impact on our communities," says Linda Taliaferro, vice president, Global Quality, Meritor.
More than 70 Girl Scouts, representing multiple troops from eight counties in grades 6-12, toured several labs and testing facilities before conducting hands-on brake activities alongside Meritor technicians that included measuring brake pad activity and learning how to replace brake pads. They also operated the brake visual wear indicator station, according to an announcement.
Several Meritor leaders shared their experiences as women in STEM careers, including Taliaferro and Cheri Lantz, vice president and chief strategy officer; Roshunda Price, senior counsel, Corporate Transactions; Jule Rucker, senior chemist; and Milena Montalbano, Emerging Leader Development Program, Quality.
"We have a longstanding commitment through the Meritor Trust Fund to encourage an interest in STEM because students in elementary schools, colleges and universities are the foundation for the next generation of scientists and engineers who will lead our industry," says Krista Sohm, vice president and chief marketing and communications officer, Meritor. "Through capstone projects, career days, mentoring and scholarships, we expose hundreds of students each year to STEM career opportunities."
Marc Berke, chief development officer, Girl Scouts of Southeastern Michigan, says, "Girl Scouts is committed to filling the STEM pipeline with the next generation of engineers, scientists and other leading women in STEM. Hands-on experiences like the Meritor visit and working alongside women professionals help ignite girls' passions for changing the world through STEM. And, they get to see that girls can succeed academically and professionally in those areas."
According to a Girl Scout Research Institute study, 74 percent of nearly 900 girls ages 14-17 surveyed nationwide are interested in STEM subjects and more than 90 percent believe they are smart enough for a STEM career. But only 13 percent say it's their top career option.