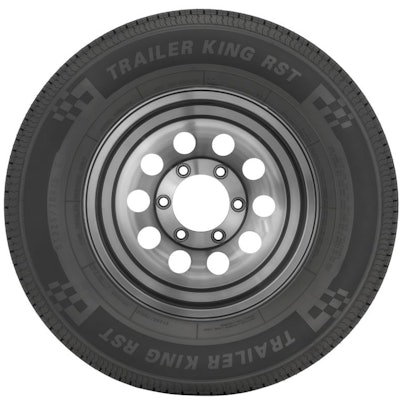 TBC Brands has introduced the Trailer King RST. The ST radial tire is Trailer King's latest generation ST tire built for today's modern trailer applications, the company says.
This tire is produced with segmented molds for exceptional uniformity and a modern appearance. The RST's optimized tread depth reduces rolling resistance and heat buildup to maximize the life of the tire. Most sizes feature a nylon overlay construction to maintain strength and durability for extended even wear on higher load applications, TBC Brands says.
"Available in a wide variety of sizes and equipped with an M speed rating, the Trailer King RST provides industry leading market coverage at an affordable price," says Bill Dashiell, senior vice president, Commercial Tire Division, TBC Brands.
The Trailer King RST is available in the following size and load range combinations:
ST175/80R13 C and ST175/80R13 D
ST185/80R13 C and ST185/80R13 D
ST205/75R14 C and ST205/75R14 D
ST215/75R14 C and ST215/75R14 D
ST205/75R15 C and ST205/75R15 D
ST225/75R15 D and ST225/75R15 E
ST235/80R16 E and ST235/80R16 F
ST235/85R16 E and ST235/85R16 F
Trailer King RST tires feature a nationwide warranty for workmanship and materials due to a defect in design, workmanship or material for the either the life of the original tread or five-years from the date of purchase, whichever comes first, the company says.