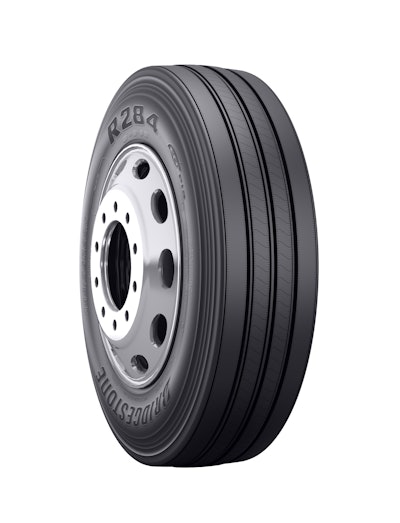 Bridgestone Americas has launched the Bridgestone R284 Ecopia tire, a SmartWay verified steer tire designed for improved fuel economy and enhanced treadwear.
Engineered for premium performance in long-haul and regional service, the R284 Ecopia tire features an innovative tread compound for long wear life and patented NanoPro-Tech polymer technology for a 5 percent improvement in rolling resistance compared to the Ecopia R283A steer tire, Bridgestone says.
When tires are in operation, gravitational forces create drag between the tire and the pavement. This creates rolling resistance — the energy a vehicle sends to the tires to maintain movement at a consistent speed — which results in energy or fuel loss. Tires designed for low rolling resistance contribute to a vehicle's overall fuel economy and can be much more fuel efficient than conventional tires.
"Bridgestone launched the R284 Ecopia tire to provide our customers with enhanced solutions to maximize fuel efficiency and lower the total cost of tire ownership," says Kyle Chen, brand manager, truck and bus radial tires, U.S. and Canada, Bridgestone Americas Tire Operations. "The R284 Ecopia tire will help make mobility more efficient by continuing to drive savings for fleets without compromising on quality or performance."
The Bridgestone R284 Ecopia tire features an IntelliShape sidewall designed with a slim bead to reduce tire weight and minimize rolling resistance. In addition, the proprietary Fuel Saver Sidewall compound works with the NanoPro-Tech polymer technology to reduce energy loss, ultimately improving fuel economy, the company says.
Other features include an optimized tread depth and width to help maximize tread volume while Defense Side Grooves within the tread pattern help to minimize shoulder wear for long original life. Bridgestone adds Equalizer Ribs are also incorporated into the tread to absorb irregular wear and promote higher removal mileage.
Fleets looking to further capitalize on the fuel efficiency benefits of Bridgestone Ecopia tires can utilize fuel-efficient retreads to help extend the life of their tire casings. Designed to work together and complement Bridgestone Ecopia tire casings, Bandag FuelTech retreads are a reliable and sustainable business solution that can drive down fuel costs, the company says.