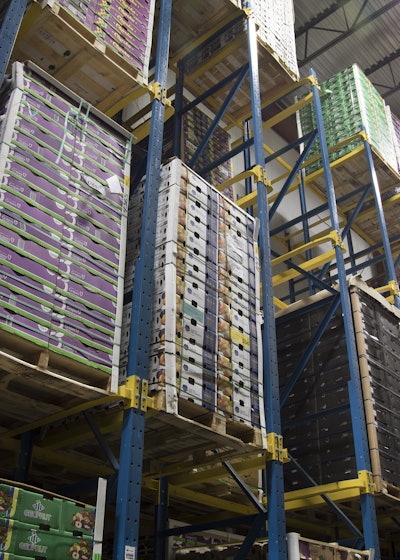 Steel King Industries announces the availability of its Drive-In Rack Systems, which it claims delivers cost-effective storage in high-density warehouse applications.
By requiring fewer aisles and providing better cube utilization than selective racks, Steel King says drive-in and drive-thru racking allows users to store up to 75 percent more pallets than with selective racking. Forklifts drive directly into the rack, allowing storage of two or more pallets deep. Flared drive-in support rails helps forklift drivers enter the pallet rack by guiding the pallet into the bay.
Additionally, a Drive-In pallet rack system uses the same entry and exit point for each storage bay, providing last in, first out (LIFO) access. A Drive-Thru pallet rack system is loaded on one side and unloaded from the other for first in, first out flow (FIFO).
And because they are often used in high turnover areas and operated in close proximity to forklift traffic, Steel King says drive-in and drive-thru racks are subject to greater wear and tear than other rack structures. Steel King adds its drive-in rack system is engineered and manufactured to better stand up to this wear, making it the market leader among drive-in racking systems.
The drive-in racking also features unlimited storage depth and is ideal for high-traffic and cooler/freezer installations. Additionally, Steel King offers an optional offset leg design for easier handling of pallets. The welded frame construction delivers high rigidity and strength, while other optional features, like protective railings and seismic-safe designs, deliver even greater safety and stability in demanding applications, the company says.