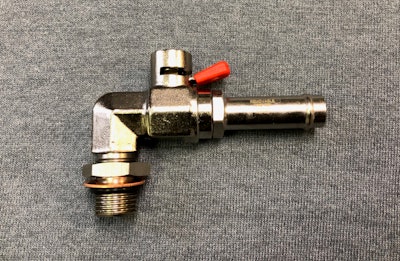 EZ Oil Drain Valve introduces the EZ Fuel Line Valve.
Designed for fuel supply line emergency shut-off applications, EZ Oil Drain Valve says the new valve features the same lever locking design, but the lever locks in the "open" position instead of the "closed" position. The company adds the new valve also incorporates the same ball valve design, as well as the special O-ring design and nickel plated exterior.
Other new features include an adjustable lock nut and the Red Colored Handle. EZ Oil Drain Valve says the lock nut can be used to adjust the final position of the valve. This will allow operators to install the valve in any position they prefer, the company says. The Red Colored Handle also cover improves visibility and allows easier access of the handle when the fuel needs to be shut off immediately.