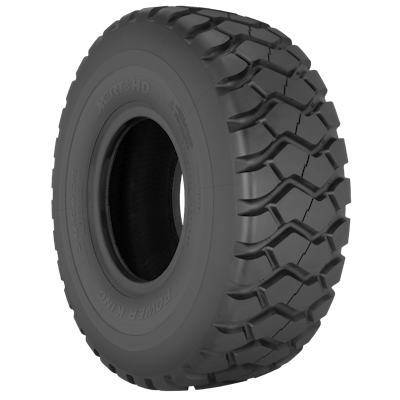 TBC Brands has introduced a radial tire for loaders and articulated trucks, the Power King xERT-3HD, an addition to the Power King xERT-3 value line, and is rated for E-3 and L-3 service.
The xERT-3HD's self-cleaning tread provides traction in all off-road conditions making it an exceptional choice for municipalities and aggregate operations, the company says. It's wide, flat footprint coupled with the increased tread-to-void ratio improves the stability and tread life of the tire.
"TBC Brands is excited about the expansion of the Power King lineup with the addition of the xERT-3HD," says Bill Dashiell, TBC Brands senior vice president of the Commercial Tire Division. "This OTR tire was designed for dealers seeking a long original tire life with a high-quality casing for excellent retreadability."
The Power King xERT-3HD is available in four sizes: 20.5R25, 23.5R25, 26.5R25 and 29.5R25.
Power King off-highway tires feature a five-year warranty for workmanship and materials that includes a no-charge replacement within the first 12 months with 10 percent or less of the original tread depth used if it becomes unserviceable due to a defect in design, workmanship or material, the company says.  A prorated allowance is available after the no-charge replacement period or the tread use exceeds that allowed based on the date of manufacture and the amount of tire use after installation.