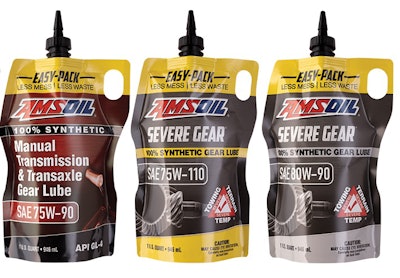 Amsoil announces its easy-pack lineup now includes three commercial lubricants that previously were available only in plastic quart containers. The easy-pack container is designed for durability in tough environments and improved maneuverability and access to tough-to-reach fill holes, resulting in less mess and less wasted product, the company says.
Synthetic Manual Transmission and Transaxle Gear Lube: Formulated to help reduce friction and protect against wear and heat in severe-service conditions. It is designed to deliver quicker shifts, longer service life and added protection in manual transmissions and transaxles.
Severe Gear 75W-110 Synthetic Gear Lube and 80W-90 Synthetic Gear Lube: Formulated to help reduce operating temperatures while delivering added film strength to resist thermal breakdown. These premium-grade gear oils are engineered for added performance and protection against wear, pitting and scoring in severe-duty applications.