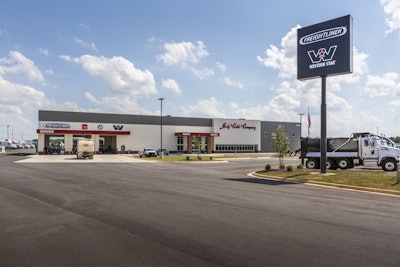 Velocity Truck Centers (VTC) has acquired Neely Coble Company — dramatically expanding its footprint across the southern United States.
The acquisition extends VTC's reach from California, Arizona, Hawaii and Nevada into central Tennessee, northern Alabama and southern Kentucky. Neely Coble's primary locations sell and service the Freightliner and Isuzu brands from locations in the Nashville, Tenn., Huntsville/Decatur Ala., and Bowling Green, Ky., metropolitan areas, and Western Star in Decatur, Ala. 
Through the acquisition, VTC says it will bring its unparalleled customer focus, including two-hour Express Assessment, Elite Support Certification and equipment financing through its Crossroads Equipment Lease and Finance division, to markets in the Southeast.
"We are very excited to extend Velocity Truck Center's reach to the rapidly growing markets in the Southeast," says Brad Fauvre, co-president, VTC. "We will now be able to take care of our customers operating in a broad area of the U.S. from east to west. VTC is committed to providing exceptional support for our customers and a great place to work, and we know that the Neely Coble Company employees will help us to accomplish these goals."
With the addition of these locations VTC says it continues its growth as one of the largest Freightliner and Western Star dealership groups in the country. The business now totals more than 30 locations and more than 1,800 employees. The company says existing operations and announced acquisitions generate in excess of $2 billion in worldwide annual revenue from commercial vehicle sales, service, parts, collision and fabrication centers, and equipment financing.
"We want to thank Neely Coble III for working with us to complete this transaction, and we enthusiastically welcome Neely Coble IV and Edward Coble who will join our management team and ensure continuity of customer service as we navigate the transition," says Conan Barker, co-president, VTC. "We could not be more pleased to have both of them as our partners going forward. In addition our whole management team looks forward to growing together with our new team members and Southeastern customers in the coming years."
Adds, Neely Coble III, "We feel very fortunate to join Velocity Truck Centers. Neely Coble Company was founded in 1951 by my grandfather and father and now we are in the fourth generation of Cobles. Personally, I could not be happier that my two sons, Neely and Edward, are continuing their careers with VTC and we welcome them to Nashville and the Southeast."