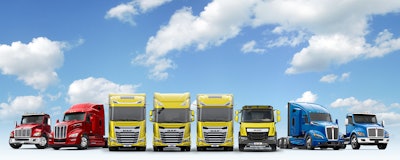 Paccar announced record-setting second-quarter revenues Tuesday, thanks to increased truck deliveries, gross margins and a steady, strong parts business, says CEO Preston Feight.
Paccar earned record net income of $1.22 billion ($2.33 per diluted share) in the second quarter, an increase of 70% compared to $720.4 million ($1.37 per diluted share) earned in the same period last year. Second quarter net sales and financial services revenues were $8.88 billion, 24% higher than the $7.16 billion achieved in the second quarter of 2022. Paccar states its achieved Truck, Parts and Other gross margins of 18.8% compared to 14.4% in the same period last year.
"Paccar Parts achieved robust quarterly sales and profits due to industry-leading logistics performance that enhanced customer uptime. Paccar Financial Services delivered excellent profitability due to its high quality portfolio and good used truck results," says Feight. "Paccar is pioneering new technologies such as predictive data analytics in its aftermarket and powertrain businesses. I am very proud of our employees for delivering premium trucks and transportation solutions to our customers."
[RELATED: Used truck volumes hit 16-month high]
Paccar delivered 51,900 units in the second quarter and generated cash from operations of $975.5 million. Through the first sixth months of the year, the company's net sales and revenues are $17.35 billion and its net income its $1.96 billion.
In the truck sales space, Darrin Siver, Paccar executive vice president, states "customers are updating their fleets to take advantage of Peterbilt and Kenworth's industry-leading fuel efficiency and reliability. Our factory production schedules are full for the year." The company expects Class 8 industry retail sales in the U.S. and Canada to be in a range of 290,000-320,000 trucks this year.
In the parts business, Paccar Parts earned strong quarterly pretax income of $419.3 million in the second quarter of 2023, 19% higher than the $353.3 million earned in the same period last year. Paccar Parts achieved quarterly revenues of $1.60 billion in the second quarter, 11% higher than the $1.43 billion reported in the same period last year. Additionally, Paccar Parts first half 2023 revenues were $3.22 billion, compared to $2.82 billion in the same period last year. Paccar Parts achieved pretax profit of $857.9 million in the first six months of 2023, compared to $693.5 million earned in the first six months of 2022.
"Paccar Parts provides strategic, technology-driven transportation solutions that deliver greater uptime and profitability for customers. Paccar Parts' Managed Dealer Inventory program deploys predictive data analytics to recommend the optimal mix of truck parts for dealers' inventory each month," says Laura Bloch, Paccar vice president and Paccar Parts general manager.