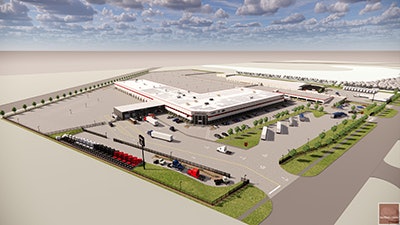 Stoops Freightliner-Western Star
Sustainable trucking means more than just battery-electric or hydrogen trucks. It means sustainability all around, including the offices, dealerships and service bays that support the trucks on the road.
As dealerships and service centers retrofit for charging stations and other infrastructure to service sustainable trucking, it makes sense to make the buildings more environmentally friendly, too. Sustainable building features such as solar power, water reclamation, efficient lighting and HVACs and more not only help the outdoor environment, they can help inside, too, with happier, more productive employees and more satisfied customers.
Here's an example.
Stoops Freightliner-Western Star is building a new Indianapolis facility, right next to its current one. The new location will have a solar array and microgrid that will power the building during peak times. Also, because of where it's at, Vice President of Operations David Shane says the building is often affected by power outages. The solar array and microgrid will eliminate the disruption from blackouts and brownouts, along with the associated employee and customer frustration, which is its own return on investment.
There are incentives available in many states to help owners with the upfront cost for many of these features, which can be considerable, depending on the system. Pair that with the savings over time, such as on the utility bill with solar arrays, and truck facility owners could see pretty decent returns.
"We really did scrutinize the ROI on our solar project," Shane says, "along with some of the incentives that the city and state are giving us on that."
Incentives vary based on location and features. Shane says he's had success working with the Daimler Trucks North America, the dealership's tax preparer and utility companies to help take full advantage.
Indianapolis is a trial balloon for the company. As it works through that project, Shane and Stoops are taking notes for future builds. The company is planning a new location in Greeling, Mich., and Shane says what the company learned in Indianapolis lead it to find even more incentives in that state.
"We're jumping off the pier here in Indianapolis," Shane says. "We're hoping to learn more as more states and municipalities offer incentives."
He says the best thing any owner looking to go green is to find the experts, whether is with your existing vendors, like Stoops used, or with a consultant or even a permanent role in the company.
And make the time to listen to them.
"You'll always feel like you're playing from behind unless you have someone with their finger on the pulse to help you through," Shane says. Plus, the technology evolves so quickly that it can be a full-time job just keeping abreast of it.
Yes, there are costs. Yes, it takes time. But there are ways to mitigate both. Sustainable trucking is a holistic concept that goes beyond the powertrain. And it's one you can't afford to ignore.