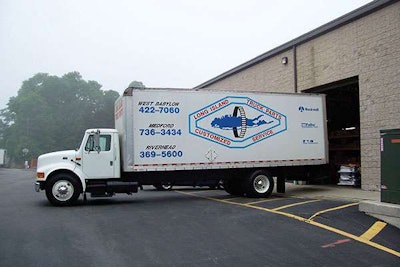 There is no 9-to-5 in the aftermarket. A truck can break down anywhere, at any time, and if you hope to service that fleet or driver you have to be available.
Bobby Naples says his father founded Long Island Truck Parts on that principle — a willingness to do whatever it takes to help a customer — back in 1972 and it remains a cornerstone of the company's business more than 40 years later.
When a Long Island Truck Parts customer needs something, Naples says his associates are always there to help.
"Going above and beyond is just part of our culture. It's what we do," says Naples, the company's president. "We get here early and leave late, so whenever a customer needs us we're here to take care of them."
Long Island Truck Parts has three locations in suburban New York (Medford, West Babylon, Riverhead) and is currently considering expansion to a fourth facility. The business is somewhat removed from the hustle-and-bustle of Manhattan, but Naples says Long Island's customers are still active fleets that require a proactive and available distributor.
He says the company's employees are its greatest asset in keeping those customers happy.
"They are the life stream of our business. They make this place go and we are nothing without them," he says.
Because of that importance, Naples says he and his management team work hard to engage with their employees and make them feel comfortable in the business. He says that's a strategy that was started by his father decades ago, and it's helped create a loyal, veteran and experienced staff.
"We don't have employee turnover," he says. "We really don't. We might lose a driver or a dock guy now and again, but when anybody gets inside the business they don't really ever leave."
That helps not just with intra-office consistency but also with client relationships. Naples says some of his customers have been working with the same salespeople for 25-plus years.
"Those relationships are a huge part of our business," he says. "We have sales guys who have been here forever, and been working with the same customers [all] that time. That's a huge asset."
Naples says it's the way those relationships have evolved that's molded the company into what it is today. By working tirelessly to help its customers, Long Island Truck Parts hasn't just created a customer base, its created business partners.
Naples gives his employees credit for that, and says their influence in the business can't be overlooked. It's hardworking, dedicated employees that make Long Island Truck Parts tick.
"You can't underestimate how important it is to have the people that we have," he says. "The knowledge my guys have is incredible. Customers want to deal with people that know what they're doing and we have that."
Headquartered in Medford, N.Y., more information on Long Island Truck Parts can be found at www.litruckparts.com.