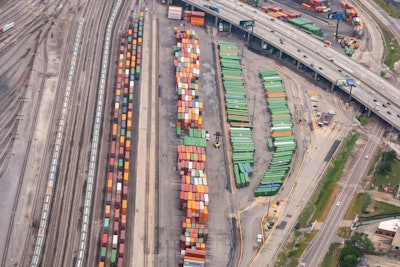 President Joe Biden signed a bill Friday that averted a national rail strike that would have had devastating effects on the U.S. economy.
"Working together, we have spared this country a Christmas catastrophe in our grocery stores, in our workplaces, and in our communities," Biden says. "I know that many in Congress shared my reluctance to override the union ratification procedures. But in this case, the consequences of a shutdown were just too great for working families all across the country."
The bill forces all 12 railroad unions to accept an agreement that eight of the unions ratified. It includes a pay raise but not, as the Senate passed it, paid sick leave. The House passed both the agreement as it stood on Nov. 30 and a separate bill giving railroad workers seven days of paid sick leave.
"Proudly, we have long stood with the hard-working railroaders in their fight against greedy railroad corporations for fairer wages, benefits and working conditions," House leader Rep. Nancy Pelosi wrote in a letter to her fellow Democrats on Nov. 29. "And it is outrageous that every developed country in the world has paid sick leave, yet America does not."
She went on to call a potential strike catastrophic, pointing out it would result in the loss of hundreds of thousands of jobs and nationwide product shortages.
The American Trucking Associations (ATA) thanked Congress for its quick action on Thursday.
"Trains move critical goods like hazardous materials and fuel — including diesel which is already in short supply in numerous parts of the country," ATA President and CEO Chris Spear said in a statement. "Hospitals, businesses and ordinary Americans depend on freight rail and trucking for daily necessities, and the trucking industry has neither the equipment nor the manpower to replace a single day of lost freight rail service."
Speaking on HDMA's monthly Pulse webinar last week, Jonathan Starks, CEO and CIO of FTR Transportation Intelligence, said the trucking industry was better positioned now than it was when facing a possible strike in the fall.
"The fact the truck fleet has a little bit of capacity built into it makes it a little bit easier to manage through that," Starks says. "Six months ago, it would've been more difficult."
Better positioned, maybe, but still unable to take up all the slack from stopped trains.
The ATA said it would take 460,000 additional long-haul trucks to replace the freight that runs on 7,000 daily trains.
"There is no way the trucking industry can replace all the rail freight," Spear says.
The Senate was left with three options to send to the president: Force the unions to accept the agreement as is, add the seven paid sick days to the agreement as approved by the House and, lastly, an extension of a cooling off period to give railroad managers and unions more time to negotiate. That vote failed, 26-69.
Labor Secretary Marty Walsh, who has been working to avoid a strike for months, said the extra time would not help.
Biden promised to come back and negotiate paid sick leave for everyone so it would no longer be a matter of negotiation.
"I have long been a supporter of paid sick leave for workers in all industries — not just the rail industry — and my fight for that critical benefit continues," Biden says.
Should a strike have materialized, the impacts would have been felt long before the picket lines went up. Hazardous chemicals and other materials have to be held so they aren't sitting in railyards during any potential labor stoppage, meaning that shipments would be stopped days in advance of any potential strike date.
The Association of American Railroads projected lost economic output due to a national rail shutdown at more than $2 billion per day amid snarled supply lines, disrupted fuel markets and chaotic commerce. As many as 765,000 Americans would be out of work in the first two weeks of a strike, the White House said.