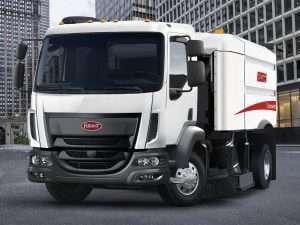 Peterbilt Motors Company on Tuesday announced several new design features for its Model 220.
The new features include a redesigned vertical exhaust, standard battery box cover and an enhanced frame layout that allows for better clearance for PTO installation through the left-hand rail and enables faster and easier PTO mounting and serviceability.
Peterbilt says the single canister aftertreatment in the redesigned vertical exhaust replaces the former dual canister design, saving up to 100 lbs. per unit. The design also increases the Model 220's cab-to-axle distance by six inches. Peterbilt says The battery box in this exhaust configuration has also been reduced in size, resulting in a combined weight savings of up to 165 lb.
The standard battery box cover on the Model 220 has also been enhanced for 2017. Peterbilt says the battery box cover is now made from lighter-weight aluminum instead of steel. In addition to being lighter weight, the aluminum battery cover has better corrosion resistance and enhanced overall aesthetics, the company says.
Both enhancements are available for immediate order.
Regarding the PTO, Peterbilt says the update is standard on all Model 220s ordered after January 2017.
"This new design allows body outfitters to complete their work more efficiently and with reduced downtime for our customers" says Kim Lawton, medium duty marketing manager. "The Model 220 is already a success in applications such as street sweeper and beverage delivery. With this enhancement we reaffirm our focus on the work truck industry and our commitment to support body outfitters with innovative solutions. Serviceability is also greatly enhanced, so our customers benefit from increased uptime."