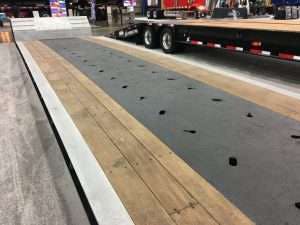 On Thursday At the Mid America Trucking Show (MATS) in Louisville, Ky., XL Specialized Trailers debuted two galvanized trailers designed to withstand harsh winter road conditions.
XL builds its galvanized units with the same T-1 flange, 80K web as its other lowboy trailers but adds a hot-dip galvanizing process that creates a barrier between the elements and the steel.
For durability on the loading area, the Mechanical Detachable Extendable (MDE) model features Apitong decking on the front, main and rear deck. In addition to the MDE trailer.
The new trailers are available in capacities from 60,000 to 80,000 lb. with lengths of 48 and 53 ft., as well as 29 or 34 ft. in the well.
A galvanized MFG Mini-Deck model features a 12-in. loaded deck height with four inches of ground clearance.
A five-year structural warranty comes standard on all XL lowboys, including the galvanized models.