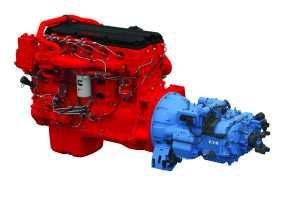 The partnership between Eaton and Cummins is getting stronger.
The two companies announced Monday they have agreed to form a joint venture for automated transmissions for medium- and heavy-duty commercial vehicles called Eaton Cummins Automated Transmission Technologies.
The companies say Cummins and Eaton will each own 50 percent of the new organization. Under the terms of the agreement, Eaton will receive $600 million in cash from Cummins for 50 percent interest in the joint venture.
Cummins' Ed Pence, vice president and general manager, high horsepower engine business, says the decision to strengthen the partnership between Cummins and Eaton was first broached in 2015, and has grown over time as the duo's SmartAdvantage powertrain partnership has thrived in the North American marketplace.
Subject to regulatory approvals and customary closing conditions, the parties say they expect the transaction to close in the third quarter of 2017. Cummins says it will consolidate joint venture results as part of its Components business segment.
Ken Davis, president of Eaton Vehicle Group, says all of Eaton's automated manual transmissions (AMT) on the market today will maintain their current titles and branding. All future transmissions will be identified as from Eaton Cummins Automated Transmission Technologies. The company hopes to announce a new heavy-duty AMT later in 2017, Davis adds.
"Customers are focused on powertrain solutions that provide the best combination of technology, performance and quality," says Craig Arnold, Eaton chairman and chief executive officer. "Our joint venture with Cummins will leverage the technical strengths and experience of two industry leaders with long histories and deep industry expertise to provide superior automated transmission technology for our global customers."
"Our growth strategy includes expanding our product offerings and extending our global footprint by becoming the world's leading powertrain supplier," adds Tom Linebarger, chairman and CEO at Cummins. "Our JV with Eaton will deliver the most advanced automated transmissions and develop an integrated powertrain and service network that supports our customers like never before. Just as we've done for the past 100 years, we will use our experience in partnerships and technological expertise to ensure our customers' success."
Together, the companies say the global joint venture will provide customers with industry-leading transmission technologies and solutions that deliver best-in-class fuel efficiency, performance and uptime while leveraging both Cummins' and Eaton's global service and support networks. The joint venture will design, assemble, sell and support all future medium-duty and heavy-duty automated transmissions for the commercial vehicle market.
Eaton's current medium-duty automated transmission, Procision, and next generation heavy-duty automated transmissions, will be part of the joint venture. In addition, the joint venture will market, sell, and support Eaton's current generation of automated heavy-duty transmissions to OEM customers in North America.
Eaton's Vehicle Group will retain its global manual transmission business, global clutch business, current generation medium-duty and heavy-duty automated transmission business outside of North America, global aftermarket business, light-duty transmission business, agricultural transmission business, and global automotive business and associated product lines.