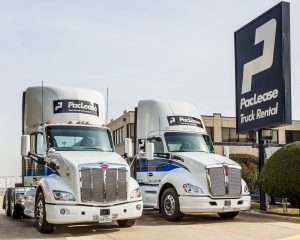 Last year was a good one for PacLease.
The company announced Wednesday it finished 2017 in flying colors, adding 30 percent more medium- and heavy-duty trucks into its lease/rental fleet, over 2016 totals, while adding eight new locations to better serve its customers.
"The overall market in truck sales in the United States and Canada was relatively flat in 2017 – comparable to 2016 levels. But at PacLease, our franchises and company locations bucked the trend with an excellent year – adding 30 percent more units over our 2016 numbers," says Peter Dames, PacLease's assistant general manager. "In addition, we saw 20 percent growth in our rental business. The increases can be attributed to the high demand for the custom-spec'd Kenworth and Peterbilt products we offer, along with customer service and lease programs we feel are second to none."
Additionally, the eight new locations continued the pace set in 2016, when PacLease added nine.
"We continue to improve our footprint throughout the U.S. and Canada," says Dames. "Our customers can rely on a complete network of locations for over-the-road service. In addition, our expansion adds new locations to service our national accounts. We were especially thrilled to welcome Rihm PacLease – a new franchise group into the PacLease network."
The company's new locations joining in 2017 were:
Peterbilt PacLease of Kansas City Kansas (Bethany, Kan.)
Peterbilt PacLease of Kansas City Kansas (Kansas City)
Rush Truck Leasing (Houston)
Rush Truck Leasing (Euless, Texas)
Rihm PacLease (Red Wing, Minn.)
Rihm PacLease (Lake Elmo, Minn.)
PacLease of Connecticut (Enfield, Conn.)
PacLease of Connecticut (Milford, Conn.)
And Dames says PacLease is poised to continue its growth curve in 2018.
"We expect another very solid year," he says. "Fleets are finding that when they lease or rent Kenworth or Peterbilt models, it's tough to go back to another brand. Keeping drivers happy behind the wheel is critical to fleets; we have the products, and we have the technicians who are thoroughly trained on Paccar products – they keep our trucks running to maximize uptime for our customers."