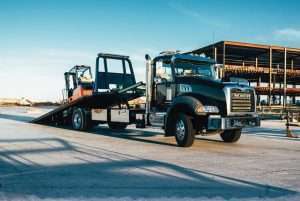 Mack Trucks announced Wednesday at the Work Truck Show in Indianapolis several new enhancements to its Mack Granite Medium Heavy Duty (MHD) model, including a new horsepower rating, a new under-frame exhaust system, a shorter wheelbase 4×2 configuration and a tractor configuration.
Outfitted with the Cummins L9 engine, the MHD now features a lower option of 330 horsepower and up to 1,000 ft.-lb. of torque paired with the Allison 3500 transmission. That's down from a standard 350 horsepower and 1,150 lb.-ft. of torque. A new under-frame exhaust offers more options for body adaptation, potentially unlocking new applications like tankers, flatbeds, box trucks, cranes and certain municipal applications.
"It's totally up under the frame and the rails are totally clean," says Tim Wrinkle, Mack's construction product manager.
The MHD model can be spec'd as a Class 7 or Class 8 vehicle, is offered in either an axle back or axle forward configuration, and is available as a 4×2 or 6×4. An axle back tractor option meets the needs of light tractor applications requiring maneuverability, flexibility and durability without extra weight.
A shorter wheelbase is also available for the MHD model in the 4×2 configuration, ideal for 10-foot dump bodies commonly found in municipal applications.
Mack also announced Wednesday it is adding ground clearance for underbody scrapers to its Granite model, making it more appealing for snow removal.
Mack says the extra six-inch increase in chassis ride height enables the underbody scraper to articulate in excess of 45 degrees in both directions, enhancing the ability to remove snow and grade roads.
Wrinkle says the up to 21 in. of ground clearance allows for easier plow installation without the need to move chassis components like fuel tanks and exhaust aftertreatment systems. The new configuration, he adds, also allows for a shorter wheelbase allowing for better maneuverability and decreased weight.
The Mack Granite is available with both the Mack MP7 and Mack MP8 engine and the mDrive HD 14-speed automated manual transmission with creeper gears, which weighs approximately 150 pounds less than an automatic transmission.
OTA programming success
Mack Trucks also announced updates to its recent efforts to improve customer uptime Tuesday at ATA's Technology & Maintenance Council (TMC) Annual Meeting in Atlanta, including 380 Mack Over The Air software updates on more than 3,500 trucks since launching the remote vehicle and powertrain programming platform in October 2017. Updates take on 23 minutes on average and Mack estimates the system has saved customers more than 500 days of combined downtime.
"Mack Over The Air enables customers to ensure their trucks are operating at an optimal level without disrupting their schedules in today's hypercompetitive just-in-time economy," says David Pardue, Mack Trucks' vice president of connected vehicles and uptime services. "This is just the latest step in our journey to provide industry-leading uptime for our customers."
Mack's GuardDog Connect integrated telematics platform is now operating on 65,000 in-service Mack trucks. The company also announced it has increased Mack OneCall uptime agent staffing by 50 percent at its Mack's 24/7 Uptime Center to schedule the updates based on when it works best for customers' operations.
Mack also said it is investing more than $2.5 million in technology for improved vehicle data and analytics, tripling the number of codes monitored on its trucks and introducing mobile communication capabilities for uptime services via the app for Mack ASIST, Mack's web-based service management system.