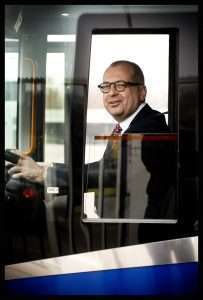 Van Hool NV, an independent Belgian manufacturer of buses, coaches and industrial vehicles, will build a bus factory in Morristown, Tenn. Once the facility is operational in the first quarter of 2020, Van Hool will employ 600 and manufacture around 400 buses and commuter coaches annually for the North American public transport market. The ground-breaking ceremony for the new site will take place at the end of this summer.
The announcement was made in Morristown, in the presence of Governor Bill Haslam and Bob Rolfe, commissioner of the Tennessee Department of Economic and Community Development (TNECD).
, says of the decision: "We have over 30 years of experience in the North American market where we have been successful with buses and coaches for private companies. We've delivered over 11,000 vehicles in North America since 1987. Based on this experience and through market research, we have learned that the public transportation market, with a total annual potential of 6,000 to 8,000 vehicles, offers opportunities for Van Hool. Because of the 'Buy America Act,' our family business decided to explore a new manufacturing facility in the U.S."
The 1982 Buy America Act requires vehicles supplied to public authorities to be assembled in the U.S., contain 70 percent of their parts from American suppliers and 100 percent American steel.
Filip Van Hool explains the choice for Morristown: "We are excited to announce the next step of the Van Hool group's global growth plans here in Morristown, Hamblen County, Tenn. The investment of more than $47 million confirms the more than 30-year presence of Van Hool on the American market. Today we are looking forward to building a state-of-the-art bus factory in Morristown to provide the entire North American market with high-quality buses and commuter coaches for transportation agencies from 2020 onwards. The presence of highly-respected technical schools and well-trained employees, together with the support and cooperation of all the local stakeholders in Morristown, Hamblen County and Tennessee, convinced Van Hool's executive board to make the largest investment outside of Belgium in Van Hool's 71-year history."
Regarding the significance of this investment for Van Hool in Koningshooikt, where the head office of the group is located, Filip Van Hool was clear: "This significant investment in a new market for Van Hool offers opportunities for employees in Koningshooikt. We really want to offer a particularly competitive product on the public bus transportation market in America. This new type of bus will be fully designed and developed by the engineers at the design office in Koningshooikt. Moreover, in the run-up to starting production in Morristown, in the first quarter of 2020, a comprehensive training program is being developed for the new American employees who will come to Europe over the course of 2019. Our experienced employees will familiarize their new American colleagues with the high-quality norms and standards of Van Hool vehicles."
"Van Hool's decision to establish its first U.S. manufacturing plant in Morristown and create more than 600 jobs underscores the robust pro-growth environment of job creation we've fostered in Tennessee," Haslam says. "Tennessee is a leading destination for foreign direct investment and because of globally renowned businesses like Van Hool, Tennessee will lead the nation in high quality jobs opportunities."
"Van Hool is an exceptional company and I'm pleased this third-generation, family-owned business has decided to bring 600 well-paying, family-wage jobs to East Tennessee," TNECD Commissioner Bob Rolfe says. "Tennessee's skilled workforce, central location and higher education programs such as the Tennessee Promise continue to attract world-class international companies like Van Hool to our state."