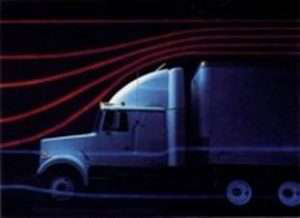 Volvo Trucks announced Monday this year marks the 35th anniversary of the company's introduction of the Integral Sleeper, the first North American conventional truck model to offer a modern, streamlined design and a fully integrated sleeper compartment.
Volvo says aerodynamic design directly affects fuel efficiency, reducing fuel costs for trucking companies, and reducing greenhouse gases. Environmental care has long been a Volvo core value, the company says, a position formalized at the 1972 United Nations Conference on the Human Environment, long before care for the environment became a trendy mainstream corporate aspiration.
"Pioneering innovations in design, fuel efficiency, driver productivity and safety have defined Volvo Trucks throughout our 90-year history," says Magnus Koeck, Volvo Trucks North America vice president, marketing and brand management. "We're proud of our heritage and celebrate 35 years of aerodynamic design. With the Integral Sleeper model we truly introduced a new standard and all manufacturers quickly followed suit, a trend we continue to see today with automated manual transmissions, greater integration of connectivity services to help maximize uptime, and right-sizing of engines for improved fuel efficiency and weight savings."
The Integral Sleeper was the first modern conventional model to unite the cab and sleeper compartments for improved aerodynamics with seamless body-in-white construction that also allowed easy pass-through from the driving environment to the living space, Volvo says. The redefined truck design further defied industry-wide design conventions of the time, introducing a hood that was six inches narrower and six inches lower at the front than at the cowl, to help reduce wind resistance. Integral Sleeper aerodynamics also were further boosted through a full-height roof fairing, cab side extenders, chassis fairings and trim tabs that helped air flow smoothly from the tractor to the trailer, the company says.
"Over the past year we've introduced the new Volvo VNR regional haul, Volvo VNL long-haul, and Volvo VNL heavy-haul tractors under the theme 'The Shape of Trucks to Come,' which also would have been very appropriate during the 1983 introduction of the Integral Sleeper, a model that inspired a design revolution for conventional model trucks," says Koeck. "Each of our on-highway models, the new VNR, VNL, and VNX, bring efficiency through their streamlined shapes. Even regional haul and heavy-haul trucks spend time at highway speeds when aerodynamics become increasingly important."