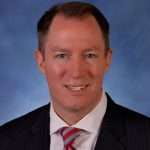 Allison Transmission Holdings announced Friday its board of directors has appointed G. Frederick Bohley III as vice president, chief financial officer and treasurer, effective June 1, 2018.
"Fred has been an instrumental member of our organization for many years," says David S. Graziosi, president and CFO of Allison. "I have worked closely with Fred, and I am confident in his ability to continue driving our vision and values in his new role as CFO."
Bohley has been with Allison Transmission since 1991 and currently serves as vice president, finance and treasurer. He began his career with the Finance department where he held powsitions of increasing responsibility. In 2001, Bohley joined marketing, sales and service, where he held the position of national account executive.
In 2003, Allison says he relocated to Sao Paulo, Brazil as director of Latin American Operations, and he returned in 2006 as director of International Marketing and Business Planning. In October 2007, following Allison's divestiture from General Motors, Bohley rejoined the Finance department and was promoted to Executive Director of Financial Planning and Analysis, Pricing and International Finance. Allison says he added Investor Relations to his responsibilities in January 2013 and Business Planning in August 2014. He was promoted to Vice President, with the added responsibility of supervising the treasury department, in March 2016 and became Treasurer in July 2017.
"I am honored to assume the role of CFO," says Bohley. "I look forward to working with Dave, the Allison leadership team and our board of directors to ensure Allison remains an industry leader in fully automatic transmissions, while also realizing new opportunities that lie ahead. We are focused on improving the way the world works."