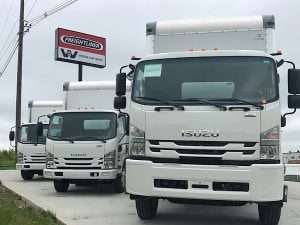 Fyda Freightliner Western Star of Northern Kentucky announced Monday it is now an authorized dealer for Isuzu Commercial Trucks America.
The company says a selection of new Isuzu trucks is currently on the lot with more inventory units arriving daily. Sales representatives, parts personnel and service technicians are completing Isuzu dealer and service training this week, allowing full warranty repair services to begin being offered for Isuzu products beginning Monday.
Fyda Freightliner Western Star Northern Kentucky opened on Aug. 1, 2017 offering new Freightliner and Western Star and used trucks, parts, and repair. A single service department shift quickly expanded to two shifts within the first four months of operation in order to meet customer demand, the company says.
"At Fyda Freightliner, we always keep a close eye out for opportunities to allow our dealerships to maximize the products and services that we can offer our customers," says Dan Ruhe, general manager for both the Kentucky and Cincinnati dealerships. "When the opportunity opened up to add Isuzu commercial trucks to the product portfolio in Kentucky, we jumped at the chance. The addition of a COE product to our lineup allows us to best service our "last mile to delivery" segment, and rounds out our product suite between both our Kentucky and Cincinnati, Ohio dealerships."
Between them, sister dealerships Fyda Freightliner Western Star of Northern Kentucky and Fyda Freightliner Cincinnati, Inc. (which are only 50 miles apart) offer the following lineup in new trucks:
Freightliner Sprinter (Cincinnati) – Class 2 and 3 light-duty passenger and cargo vans
Isuzu (Kentucky) – Class 6, 7 and 8 COE box trucks/straight trucks
Freightliner (Cincinnati and Kentucky) – Class 6 and 7 medium-duty, step van, delivery, vocational/municipality; Class 8 heavy-duty on-highway
Western Star (Kentucky) – Class 6 and 7 vocational/municipality; Class 8 heavy-duty on-highway